Our CEO Alina Mudraya and ACHIEVERS HUB founder Elena Lobova were recently in China, where they introduced the Eastern gamedev community to the Russian-speaking segment of the industry. This took place at the China Game Developers Conference, part of China Joy 2019.
Here is what they were talking about: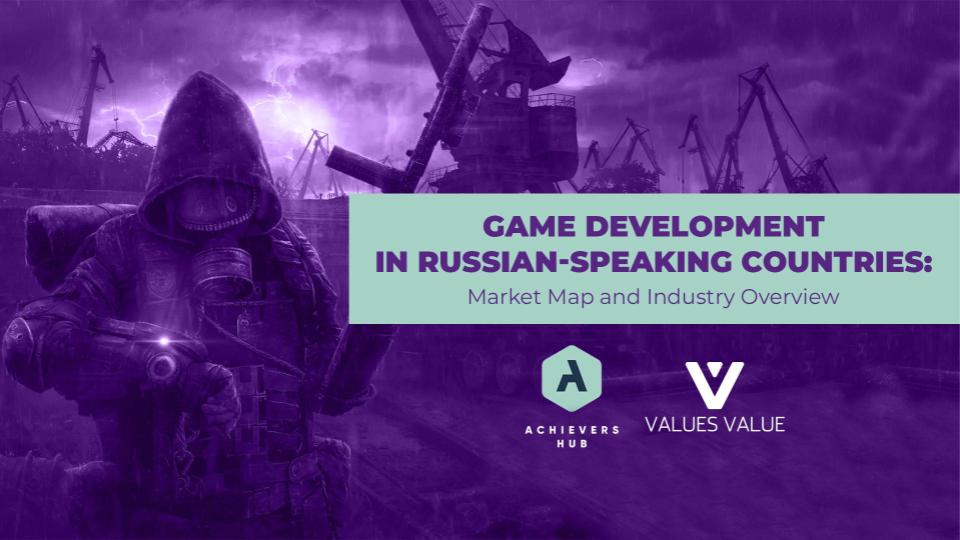 First of all, in order to make contact, we had to ensure that our Asian colleagues had a basic understanding of popular game studios and the most globally popular titles produced in Russian-understanding countries, despite the stereotypes about our countries as glum industrial lands where there's no space for fun or creativity 🙂
And the reality is that the global game industry has a really blurry picture of just how developed the segment know as CIS gamedev is (this includes Ukraine and Cyprus).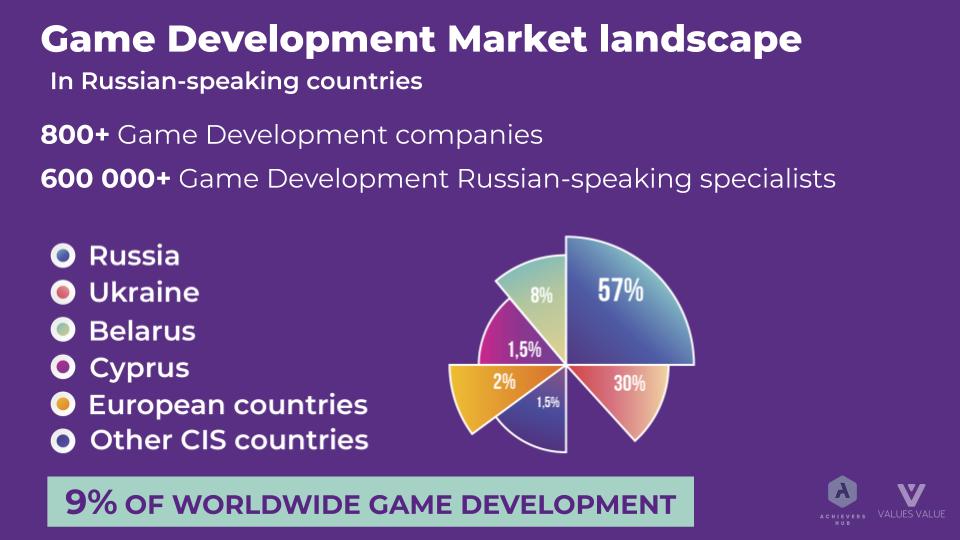 According to our calculations, the Russian-understanding segment of the game industry consists of more than 800 companies employing over 600,000 specialists.
About 57% of them work in Russia, 30% in Ukraine, 8% in Belarus, and 1.5% in Cyprus, which, although not a past member of the USSR, is closely linked to the CIS gamedev industry because the local tax system has attracted a lot of companies who want to move their main offices to Europe. The remaining percent is spread across the other CIS member countries and some European countries. This data was taken from the results of the Overall Salary Survey.
We also tried to determine the role of our region on the global gamedev map. This was fairly complicated, as the exact number of game companies in the world is unknown. However, resources like Gamedevmap give an approximate number, roughly 9000 companies. This means that the Russian-understanding segment of gamedev is about 9% of the total number of companies. Sounds nice, doesn't it?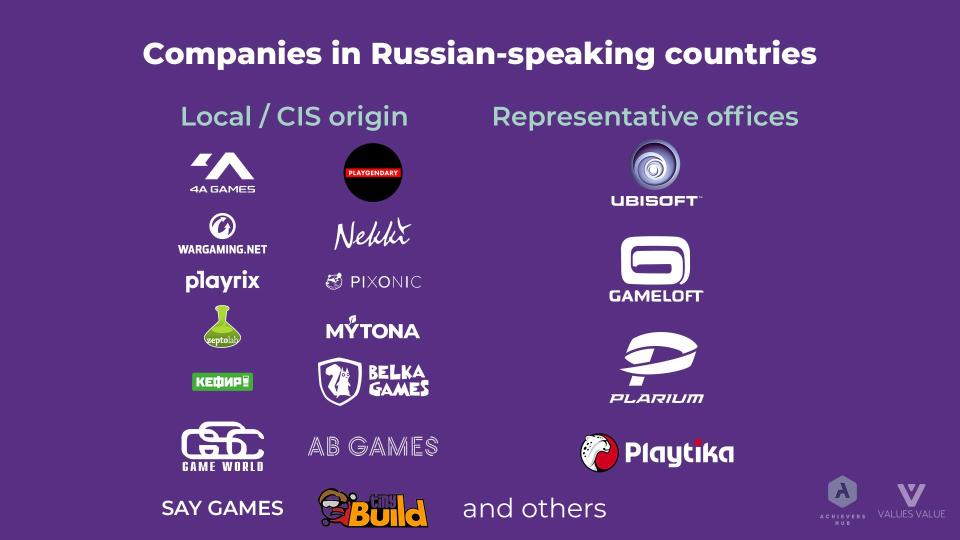 When we talk about the most popular CIS gamedev companies, there are some that everyone has heard about, and those instantly come to mind.
In addition to companies that were founded in the CIS, some of the world's largest international companies have creative and development studios in the region. Some examples are Ubisoft, Gameloft, Playtika, and Plarium. It is cost-effective for them, especially when compared to western Europe or the USA. At the same time, the region is full of technical specialists because of the overall high quality of engineering education there.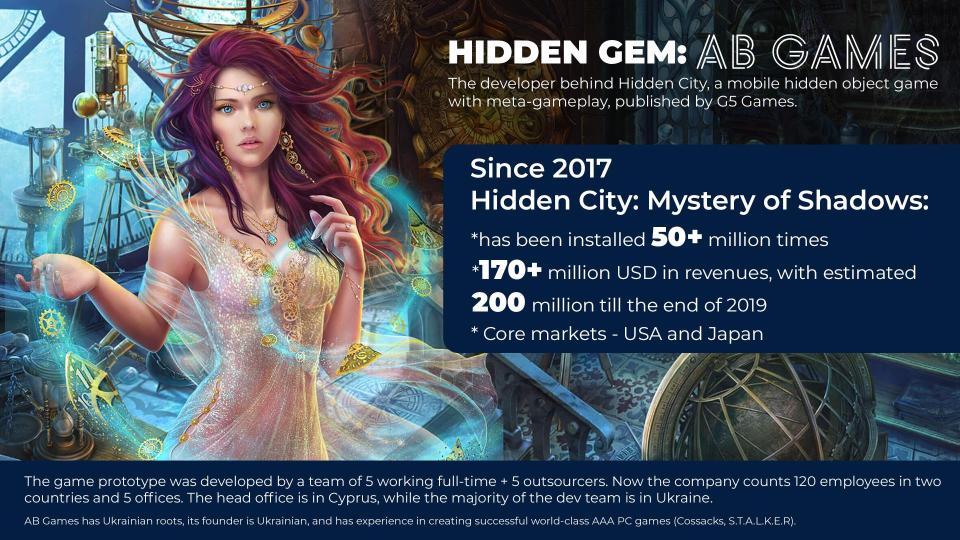 However, some companies are hidden from the market and aren't intensely active. One example is AB Games, the creators of Hidden City, a mobile Hidden Object game. Since it went to market, the number of installs has surpassed 50 million, the game raked in 0 million in revenue, and that number is projected to rise to 0 million by the end of 2019. But the game's prototype was developed by a team of 10 (5 in-house employees and 5 outsourced employees).
The company's head office is in Cyprus, but most of their development teams are in Ukraine.
The company was founded by a Ukrainian with experience developing successful AAA projects, who also participated in the development of S.T.A.L.K.E.R. and the Cossacks series.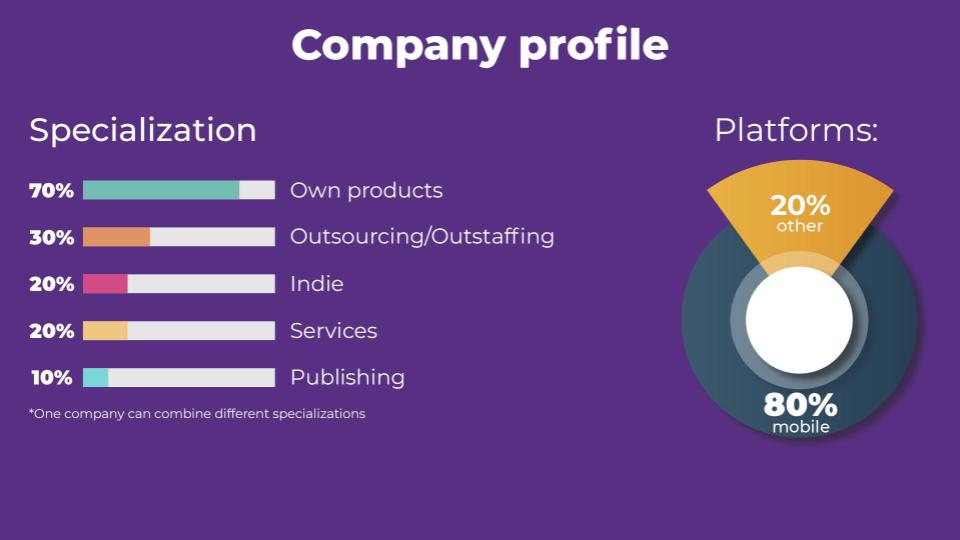 According to our research and surveys, the majority of companies in the Russian-understanding segment are developing their own games. And this is quite an unexpected result if you take into account that the region is chiefly filled with outsourcing. And this is the truth: Russia, Ukraine, and Belarus systematically take first place in External Development Insights surveys from Electronic Arts.
Our region is also famous for developing PC and console games (World of Tanks, Metro 2033, etc.). However, according to the results of the last survey of Ukrainian gamedev companies, 84% of them are developing mobile games. This indicator is approximately the same in other countries in the region. This indicates that there are a lot of companies that are still unknown to the world gamedev community.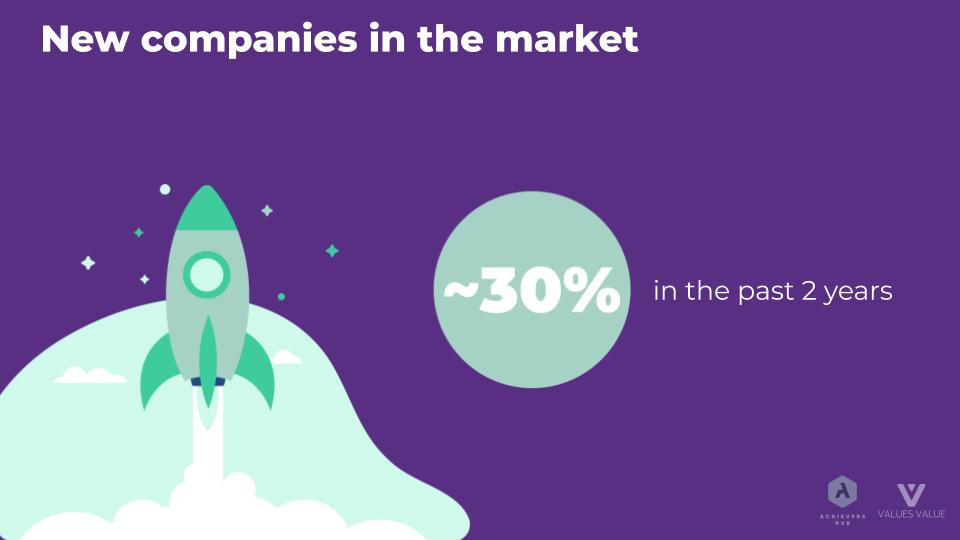 At the moment, monitoring the dynamic of how new players appear on the market is quite complicated. We estimate that the number of companies has grown by 30% over the last two years. This year, we started creating a comprehensive map of gamedev in the CIS, Ukraine, and Cyprus. We believe this will help us monitor changes in the labor market and the number of companies.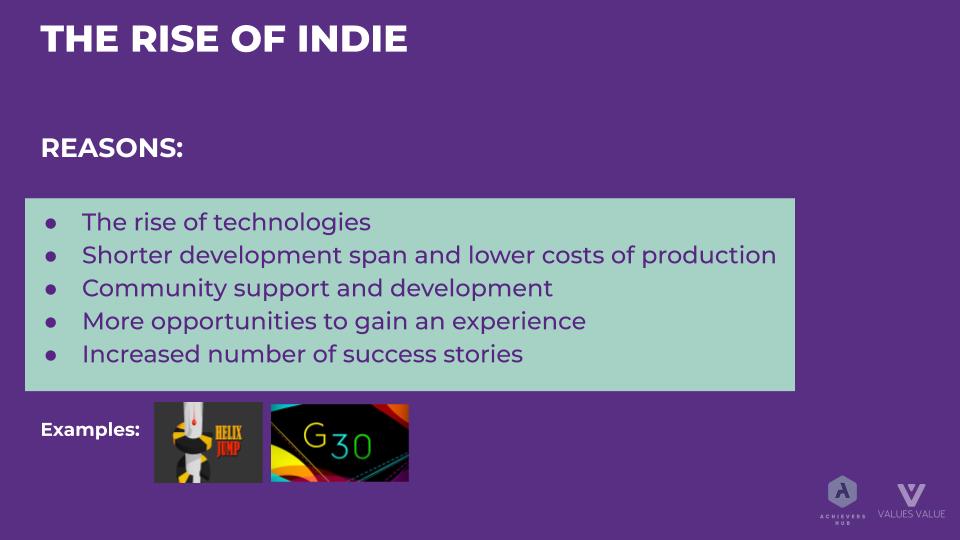 The last five years in Russian gamedev can be called the Golden Age of Indie.
The number of independent developers in this period is higher than it has been in any other period. Why is this happening?
Of course, just like anywhere else in the world, one of the reasons is developing technologies. The popularity of tools like Unity has made game development much easier, faster, and cheaper. Developing a good game no longer requires opening an office or hiring entire teams of developers, artists, designers, and other specialists. Now, all the work can be done by a team of two or three specialists, or sometimes even one. This means that game development may not require substantial funding, and this is very important in today's world, where the investor or government support of game developers is at an extremely low level.
But despite the low level of support from governments and external investors, the level of support INSIDE the country is increasing. Whereas it was previously quite difficult for a young developer in our countries to find people working in the industry to get wisdom or advice from, the number of opportunities for meetings and acquaintance has gotten much higher. There are plenty of conferences to visit and courses to take, and moreover, indie developers in some cities organize meet-ups themselves.
With no public educational programs or institutions for game development, it's also very important that large companies have entered the region. Regardless of whether they're opening offices or entering into partnerships with local outsourcers, this allows specialists to get real work experience in leading companies, which leads into them opening their own studios.
And, of course, the increased number of indie developers has led to an increase in the number of success stories, both local and global, which motivate others to start their own indie companies.
A couple of examples from Ukraine: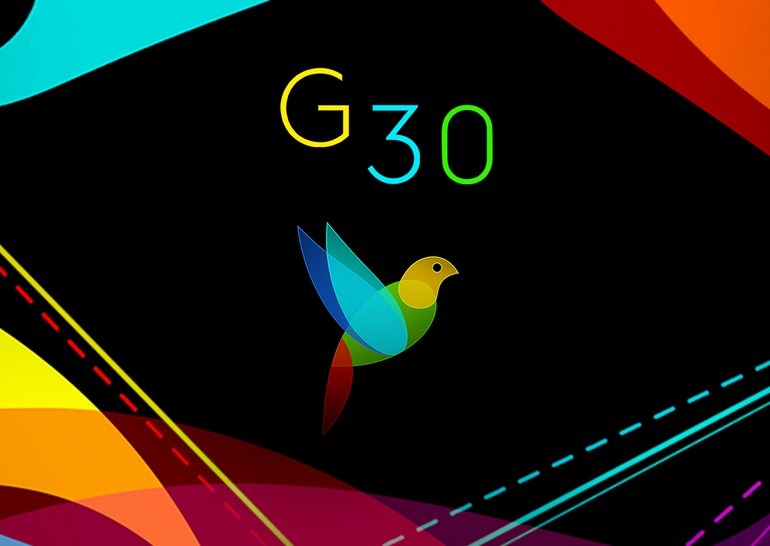 Emotional puzzle G30 — A Memory Maze, which tells a story of a person with cognitive impairment. It was developed and published by a single person, Ivan Kovalyov, a solo developer. After its release, the game was featured on both the App Store and Google Play in many countries, got attention from press and video bloggers, and won several international rewards, including Most Innovative Game at Casual Connect USA and a grand prize at the international indie game developers contest put on by Google.
Could Ivan ever have imagined all this while he was developing the game? No. He spent many months on development. He had moments of despair, was worn out, and shared his worries with local developers at meet-ups in Kyiv. He was one of them.
And he became successful. Naturally, this gave many other Kyiv-based developers a reason to start working on their own games.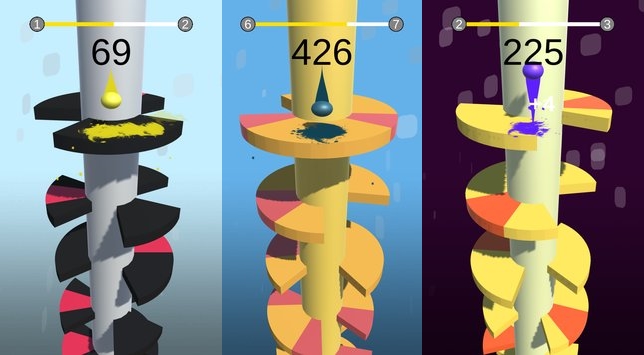 Another example is h8games studio from Kharkiv, which was an ordinary indie game studio until last year. They were ordinary right up until they started work on Helix Jump, one of the most popular games of 2018, which was published by Voodoo, installed hundreds of millions of times, and generated incredible revenue. This undoubtedly motivated many Ukrainian developers to learn more about the hypercasual genre.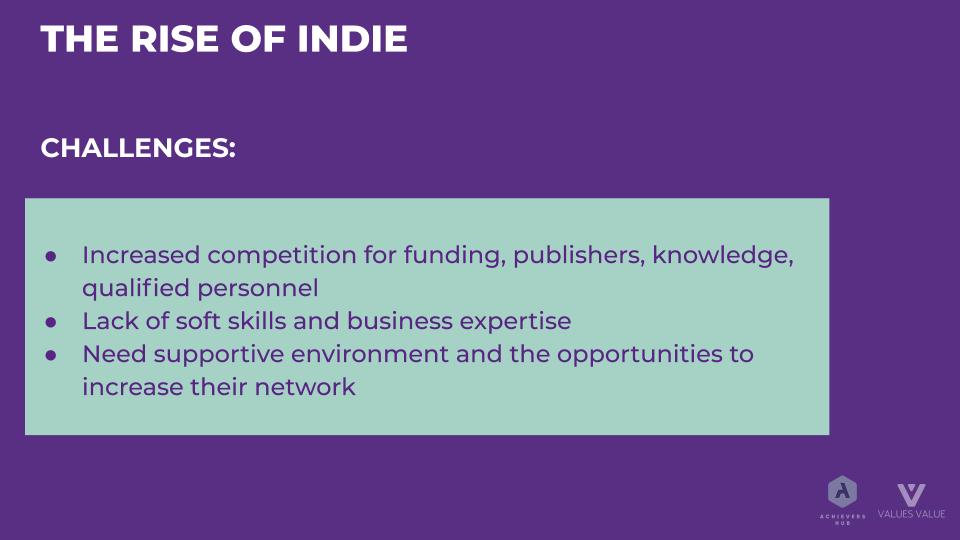 This is awesome, but which challenges and difficulties do game developers face in our gamedev segment?
The increase in the number of companies caused higher competition, including for funding, publishers, expertise, and qualified personnel. In pursuit of success, indie teams have to cooperate with international publishers and investors, and enter new markets.
One more challenge is the fact that many companies lack the right competence levels. They have gaps in their knowledge of business, strategy, networking and negotiating, plus foreign languages. And these are all indispensable skills for successfully working with foreign partners and entering new markets.
Because of this, the last several years have seen a rise in organizations seeking to connect the local industry with the international, and help developers with the business side of things so that they can focus on the creative part. VALUES VALUE and ACHIEVERS HUB are two of them. Establishing such a connection is the reason Alina and Lena brought their presentation to China Joy.
Indie teams need an enabling environment to develop their connections. As mentioned above, an environment like this for CIS developers has been forming and becoming more and more productive over the last several years.
Next, we can take a look at what exactly is going on.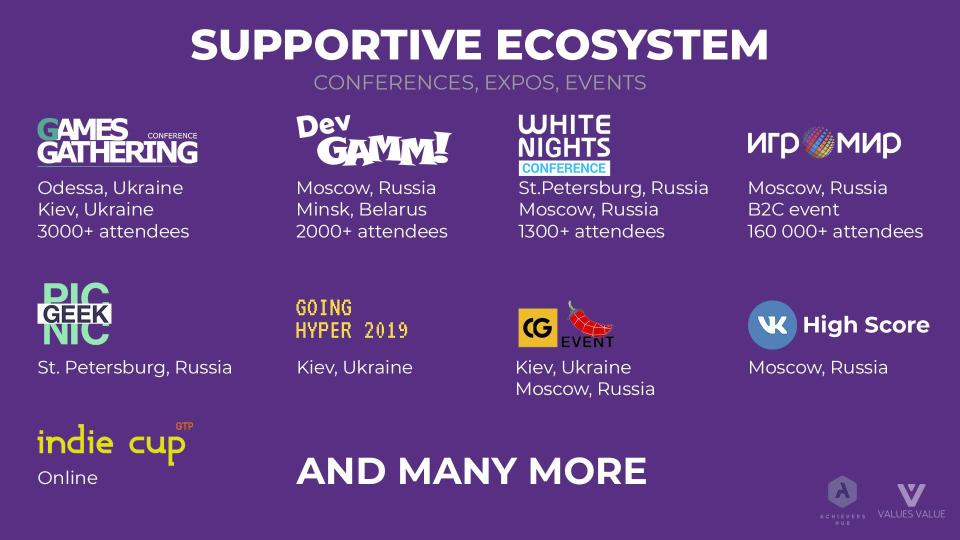 When it comes to a supportive ecosystem, one of the first things we're talking about is industry events that take place in the region and allow developers to meet colleagues from the industry, both local and foreign, share their own experiences, and learn from expert speakers. These are only a few of the events—there are a lot of them, and new ones are constantly springing up.
Some are large-scale international events that attract thousands of participants, such as White Nights in St. Petersburg, DevGAMM in Minsk, and Games Gathering in Kyiv. Attending these conferences is extremely beneficial for exploring the atmosphere and landscape of the industry in Russian-understanding countries.
Some events are smaller and are focused on local attendees, or are highly specialized. For example, Hypercasual Game Jam, which recently took place in Kyiv, or CG Event, which is held in Kyiv and Moscow for graphics specialists.
Some events, as mentioned above, are held not by large companies or professional organizers, but by small groups of enthusiasts. Those are the indie meet-ups we mentioned previously. However, international attendees should understand that these events are entirely or mostly held in Russian or the local language.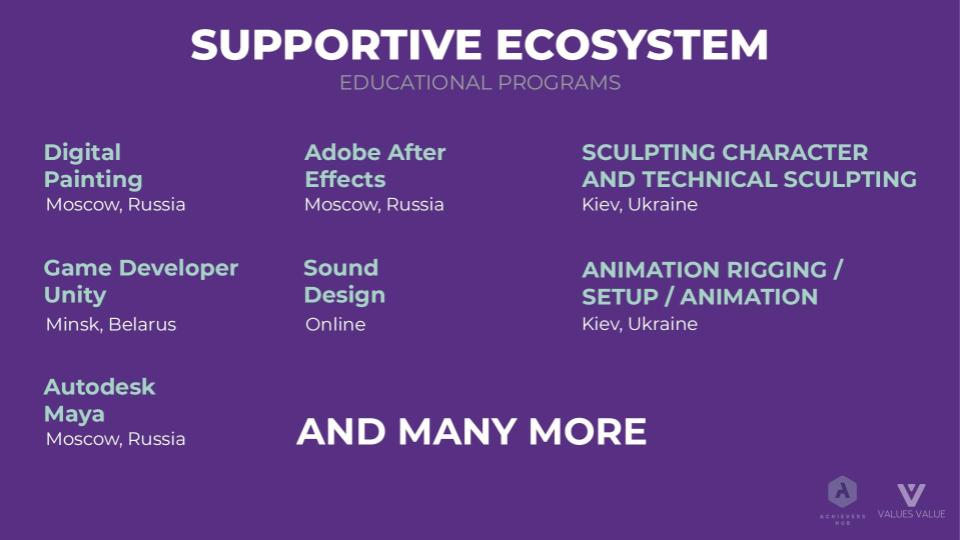 Let's go back to the lack of public educational programs where people could study game industry professions. It's worth noting that this fact has led to the emergence of many private institutions and courses providing knowledge in all areas: from programming to game design, from QA to project management, from HR to biz dev.
Indeed, this has also happened as a result of a significant increase in the overall number of professionals, many of whom are willing to share their experience and expertise. This, in turn, is related to the fact that foreign companies are opening offices in CIS countries. And the more experts that are able and willing to share their knowledge, the more of these courses and programs will be created. The more courses there are, the more specialists there will be. This cycle drives industry development in the region forward, and we are very pleased that it's happening.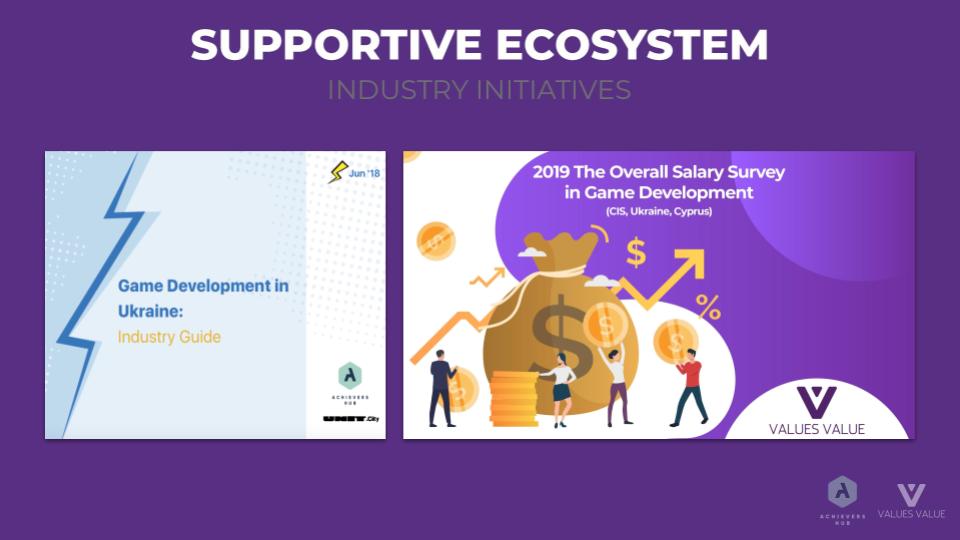 As industry progress grows, so too does the number of non-profit initiatives and projects that develop its ecosystem.
These are things like Gamedev in Ukraine guide, that ACHIEVERS HUB creates in cooperation with Games Gathering and UNIT City, and the general map of CIS, Ukraine, and Cyprus gamedev made by ACHIEVERS HUB and VALUES VALUE. These are designed to draw the global gamedev community's attention towards the Russian-understanding segment of the industry and encourage cooperation between local companies and international ones.
Another example of this kind of research is the annual Overall Salary Survey conducted by VALUES VALUE.
For more than 2 years, the VALUES VALUE team has closely monitored and analyzed the job market. This is our main area of focus. Every month, we conduct an overview of the job market and analyze all industry vacancies. In May, we also become co-organizers of a Russian-language gamedev job search platform, InGameJob.com. Before, you would have had to look at over 30 different sources and job portals to find all the vacancies in the region. Now they're all in one place on this platform.
So, what's important to know in order to build international partnerships? 
Every month, there are anywhere from 1500-3000 vacancies in the job market (depending on the month).

The CIS gamedev job market has solidified over the last few years, and vacancies are starting to appear for very specific specializations. This, first and foremost, is a testament to the growth of the industry and its developing approach to HR. Divided roles are increasingly seen in marketing, the roles of producers and game designers are more clearly divided, specialists in retention and monetization are in demand, and the approach to analytics is developing and solidifying.

There is a build-up of gamedev expertise that cannot be absorbed by other markets. Moreover, the job market itself is becoming more civilized.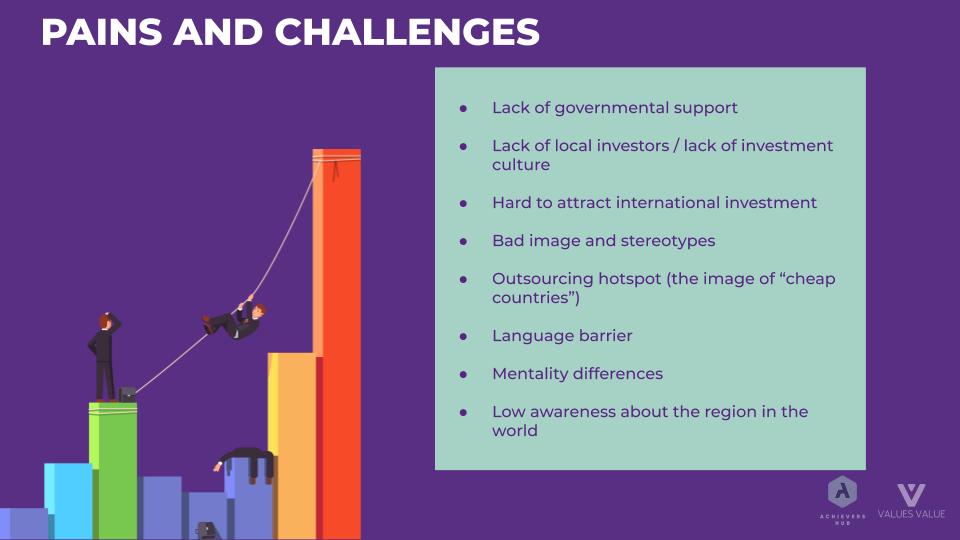 Let's talk more about challenges. We all know that success never comes without hardship.
Insufficient government support: unfortunately, gamedev has never been a key industry for federal financing. Furthermore, in our countries, it's not even considered a serious business. All this being said, it's still worth noting that several countries have indeed launched government initiatives supporting the IT sector, and gamedev in particular, over the past few years. One example is Belarus High Technologies Park.
Insufficient investors (and insufficient investment culture): according to the Gamedev in Ukraine guide, 76% of companies run on the founder's money and have no investors. The situation is similar in other countries as well. Attracting investment is usually not even considered, because companies:
simply don't believe that anyone is interested in investing in gamedev at all

are afraid of losing control over their business

are not ready to attract investment, and don't know how to pitch their projects or negotiate.
Not all of them, of course, but this is true for most developers.
Nevertheless, when it comes to difficulties in attracting foreign investments, developers' inner problems are not the only reason. There are lots of different reasons:
Bad image and stereotypes. Lena conducted a survey on what first comes to mind when you hear "CIS gamedev", and one of the most popular answers was "shady business and illegal cash". The collapse of the USSR, freewheeling '90s and the political situations in our countries create perceptions of instability, corruption, and organized crime. However, the situation is improving.

Outsourcing mecca (an image of cheapness): CIS countries have been considered as a land of outsourcing for a long time. Is this bad? Partially, yes. It gives the international community an image of cheap labor, not a creative hub. And this is absolutely wrong.

Language barrier: unfortunately, it's still fairly high in CIS countries. The situation is gradually improving, especially in big cities and among management. But the majority of developers and artists still don't feel completely comfortable with English. To change this, many companies are hiring teachers, holding courses for employees, or at least paying for language lessons.

We can't ignore cultural and mentality differences. It's often difficult for foreigners to negotiate with representatives from Russian-understanding countries. The way we tend to speak directly is often interpreted as rudeness. However, getting straight to the point instead of talking in circles is a part of our culture. That's why after asking "How are you?" a foreigner should expect not the classic "I'm fine, and you?", but a detailed answer about how the person is really doing.

Overall low knowledge of the region.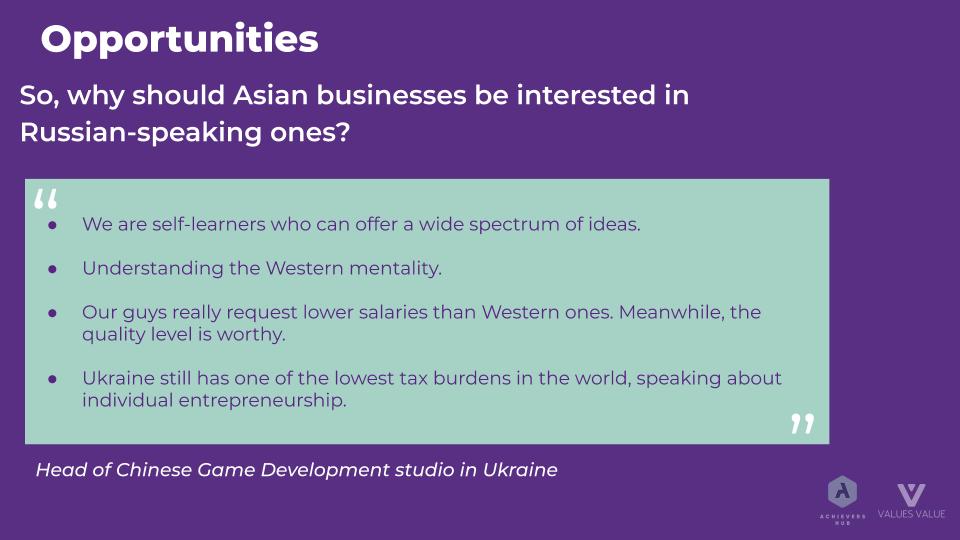 We surveyed several of our colleagues that represent Asian companies in CIS countries. Here's what they had to say about what makes eastern companies want to work with our companies:
We're independent learners, self-sufficient, and we bring a wide variety of ideas and approaches to the table. Our uniqueness and originality is key

We understand the western mentality. We've grown up in the western mediasphere, consuming their products and reiterating them in our own activity

Our specialists work for lower salaries than our average western counterparts. But the quality is still high

Our industry can be shaped to get the desired form

Ukraine has one of the lowest tax rates in the world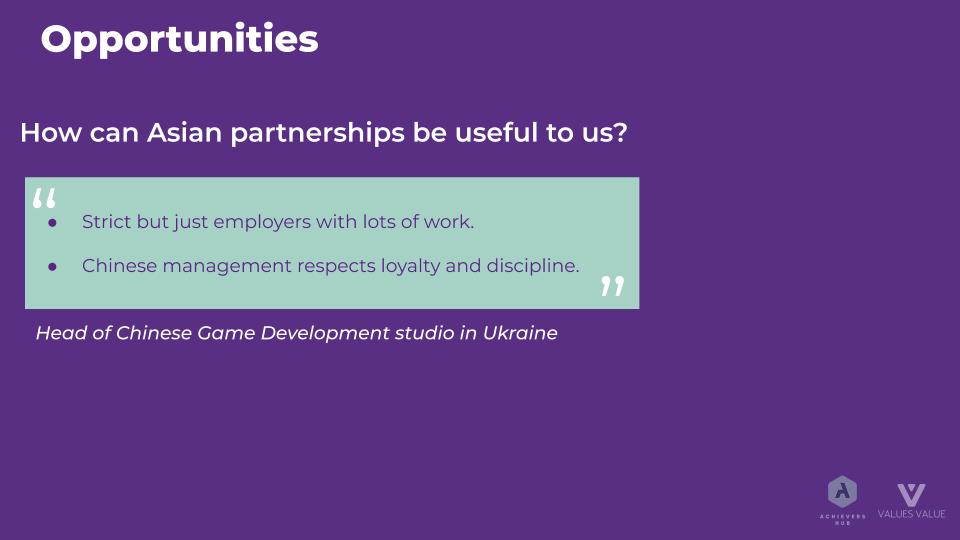 It makes sense to consider the interest of both sides. So here's what Asian partners bring to CIS companies:
Demanding but fair clients with large work volumes. And not viewing these partners as a client of our outsourcers, but making it so that company branches appear at all different levels. This will naturally create a greater demand for high-level specialists, which will lead to more specialists appearing in the market.

Chinese management values loyalty and discipline. These are qualities that Russian-speaking countries could definitely stand to acquire. Also, the idea that hard work is rewarded.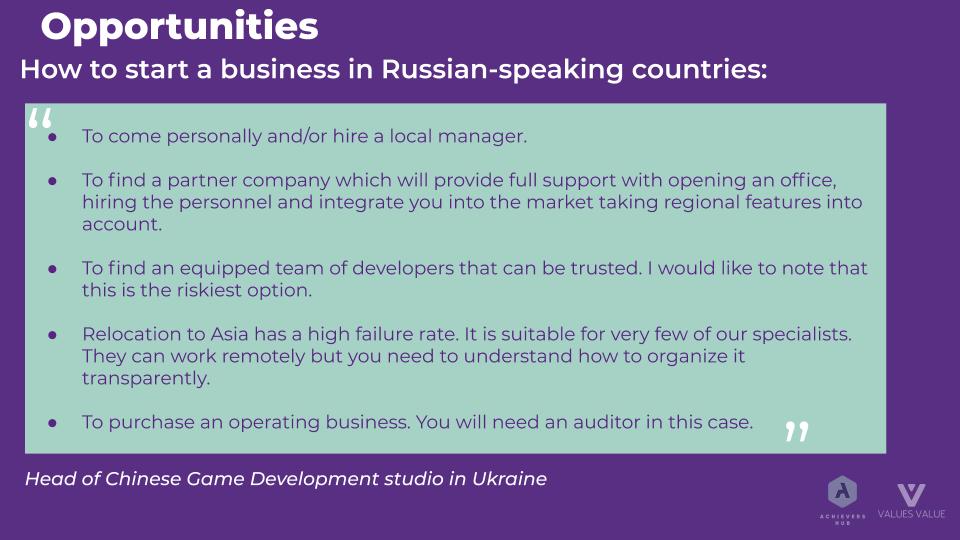 There are a lot of regional nuances in Russian-understanding countries, such as their approach to taxation and benefits. Understanding the mentality is important for building partnerships and/or opening offices. If a foreign company wants to focus activity or start a partnership in our region, then, according to the Ukraine office manager of a Chinese company, they can:
Come to the country and learn in person and/or hire a local employee who will be in charge of management

Find a partner company who will be their turnkey in the local market, helping them open an office and hire staff while taking regional nuances into account

Find a pre-existing team of developers they can trust This is the riskiest option.

Relocate specialists to Asia—this has a high rate of failure. Our specialists don't generally do well with this. Distance work is possible if everyone involved understands how to do it transparently and legally. 

Purchase a pre-existing business. This will require an audit.
This presentation was warmly received by the audience and generated interest in representatives from both eastern and western companies. Alina and Lena were invited to present it at several additional conferences. We think that's a great indicator of the huge potential for bringing our industry segments closer together, and we're delighted to be involved in making it happen.