Our quarterly CIS gamedev job market overviews continue. In this article, we look at the data for June-August 2018 and make forecasts according to the indicators of September this year. 
I. Summer in gamedev
Our analysis included 6219 vacancies from key job and industry portals for June-August 2018. These are job offers from game studios posted on App2Top, HeadHunter (Russia, Ukraine, Belarus), Dou.ua. and DTF, where the largest number of vacancies in the game development industry are listed*. The breakdown of job offerings by months is almost equal – about 2000 per month. It is worth noting that the largest number of offers from employers was recorded in June: 2200. During this month we also saw an increase in the number of vacancies for junior specialists, as we predicted. 
*During the summer we reviewed jobs on Rabota.ua and Work.ua, and on Belarusian job portals. We won't provide separate data on them here, as almost all offers are duplicate posts from App2Top, HeadHunter (Russia, Ukraine, Belarus), Dou.ua, and DTF. 
As in the previous overview, we have segmented the data by area and determined the top 15 most active employers, identified some regional labor market features, and figured out the positions that were difficult for employers to fill.  
Who companies were looking for
When compared to spring 2018, there have been no significant changes in job offers from companies. The largest number of vacancies during the summer (2658, or 43% of the total) were for developers, and in the previous period we noted that they made up 45% of the total number of job offers. Not all employers specified the specific technology or area of work in the job description. At the same time, about 30% of companies were searching for Unity specialists, and the second most popular programming language among employers was C++ (15-16%). iOS developers took second place in the number of offers only in August (20%).
Offers (Summer 2018)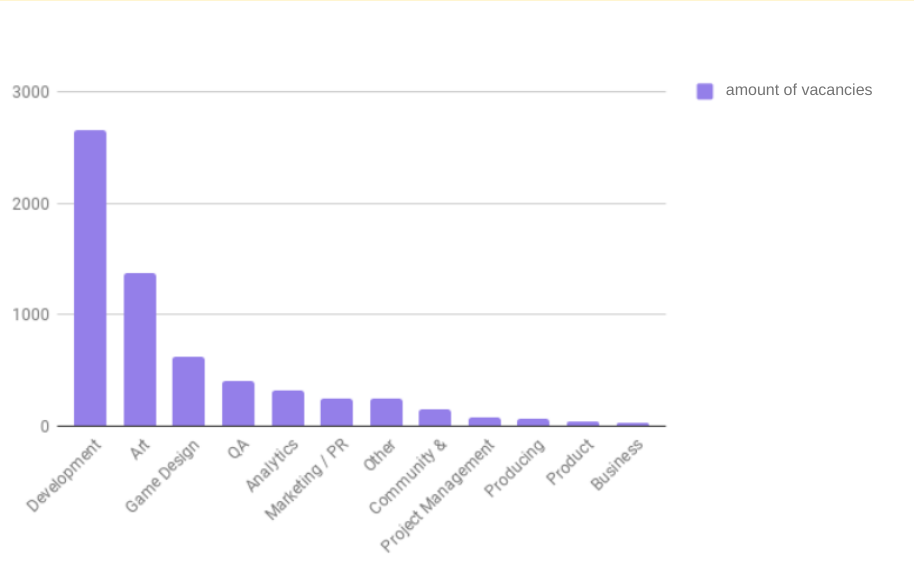 Second place in terms of demand, just like in spring, was taken by art specialists, reaching 1370 job offers (22% of the total). The percentage of vacancies for artists out of the total number on the market has not changed. 2D art was the most sought-after in the job listings (20% of all art vacancies). In spring, we noticed that artists are more frequently sought in Ukraine, with 35% of all offers on the market. This trend continued during summer, although there wasn't an overbalance towards their area like there was in May 2018 (artists became the most in-demand employees in the Ukrainian industry, overtaking developers by number of vacancies). 
Game Development vacancies in Russia (Summer 2018)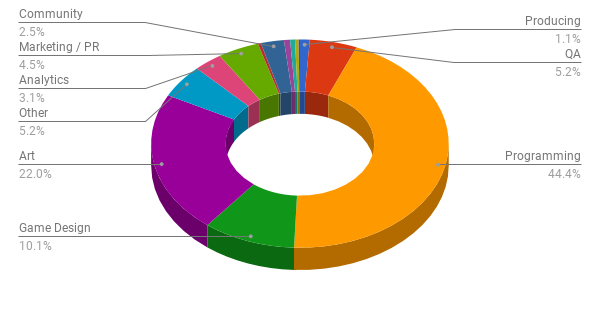 Game Development vacancies in Ukraine (Summer 2018)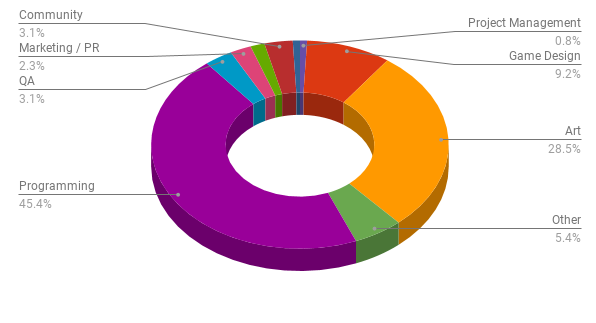 Game Development vacancies in Belarus (Summer 2018)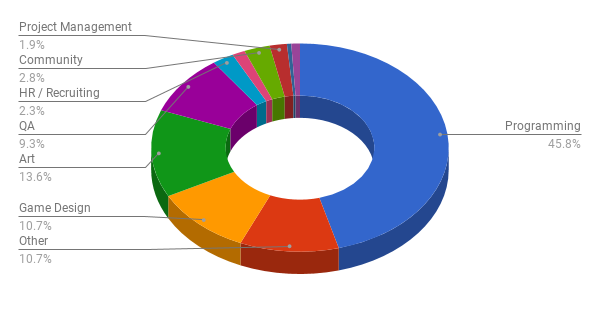 Game designers remain in third place by number of job offers in the CIS gamedev labor market, with 600 vacancies for them during summer. The share of vacancies for this area in comparison with others has slightly decreased, from 13.5% in the spring to 10% in the summer. We observed the highest demand for game designers in Belarus (see Charts by Country). 
Also, employers' interest in QA slightly decreased, from 10% in spring to 6.5% in summer. During the summer period there were 401 available QA vacancies.
Where vacancies for other areas are concerned, in summer 2018 the situation looked like this: 
analysts could choose from a total of 314 offers (1.5% more than in the spring)

marketing and PR specialists had 250 offers (1% more than in the spring)

community and support specialists had 150 job offers (1% less than in the spring)

79 offers for project managers (the percentage remained the same) and 70 for producers (the percentage remained the same)

in business development the number remained low, with just 28 vacancies. 
Employers tended to specify the required specialist level even less often than in spring. This data is present in only 21% of all surveyed vacancies (compared to 25.6% in spring). 
Vacancies by Level of Seniority (Summer 2018)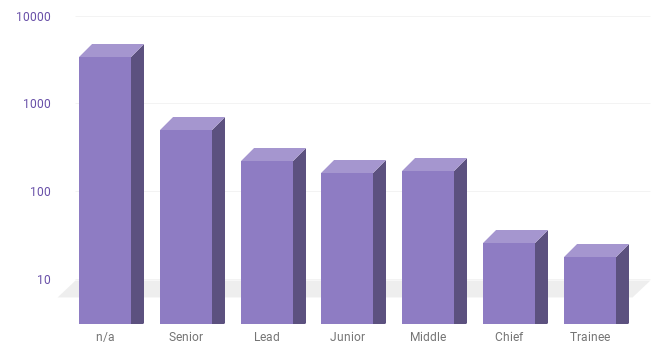 Top 15 most active employers in CIS game development
As we did in spring, we created a ranking of the most active companies by number of published job offers in July-August 2018 (on key portals). 
Top Employers by number of published vacancies (Summer 2018)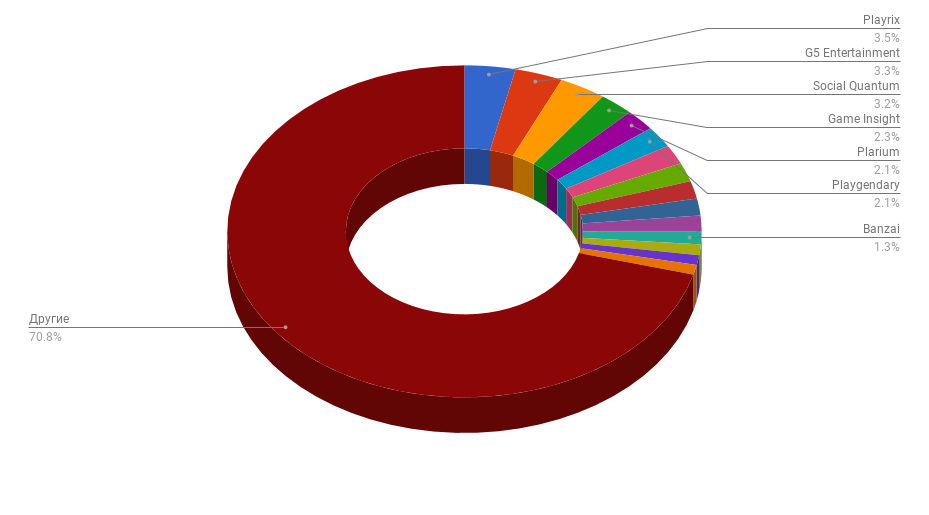 By number of job offers, these companies combined had 30% of the total number of positions on the market (in the analyzed period). 
The top three have changed. In spring, Social Quantum was leading in the search for new employees by a large margin over G5 Entertainment and Wargaming in number of job offers. In summer, Wargaming and Playrix shared first place in activity, G5 Entertainment and Social Quantum took second place, and Plarium and Playgendary were tied for third place. The differences in number of vacancies was not particularly significant. 
Game designers are in focus
In order to find out who was difficult for companies to find, we analyzed the accepted applications in VALUES VALUE. By the way, the lull in headhunting that we predicted would happen in summer did not come to pass. 
While in spring there was a boom for art professionals, in summer, the most popular employees were mid- and senior-level game designers. 21.4% of all requests that came to us were for them. 
Inquiries to Values Value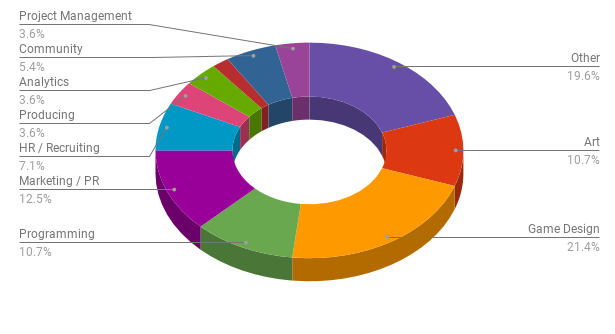 We also noticed a decrease in the number of requests coming in to our company to search for artists. The share of these requests was 10.7% of the total, compared to 30% in April and May. And while in spring, most of them (70%) were relevant only for Ukraine, now requests came from Belarusian and Ukrainian employers in almost equal shares. There were also some vacancies that are quite rare in our market, such as DevOPS, Technical Level Designer, and Employer Brand Manager.
II. September snapshot 
In September 2018, the situation in the CIS gamedev labor market has changed slightly. First of all, the number of published job offers has decreased by 25%. At the same time, the overall landscape of the market has remained almost the same. Programming, art, and game design are still the most popular areas. In other specialties, the landscape also remains practically unchanged.
Game Development vacancies in the CIS (September 2018)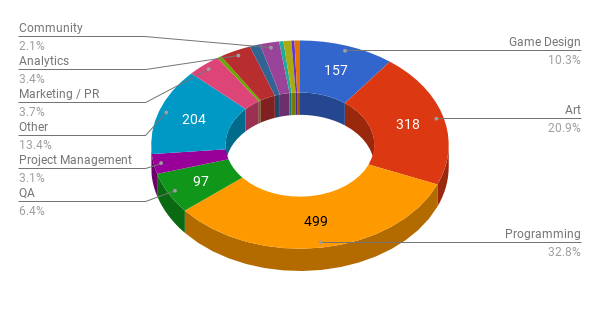 Where employers are concerned, in early autumn, Wargaming's lead position (remember the spring 2018) was threatened by Social Quantum. In September, both companies have the largest number of published job offers (50 each). Second place in headhunting activity is held by Game Insight (37 offers), and Sperasoft (35 vacancies) is in third place. 
Comments from Tanya Loktionova, Founder of VALUES VALUE: 
"The data we see is only a slice of all vacancies. The market simply does not see a lot of job offers from employers. This happens because positions are often filled through recommendations or via Facebook. For example, a candidate might write a post on social media that they're going to leave their current job, and the top manager of another employer reads their post and thinks: Oh, I need a person like this. Or another situation: a company has an employment plan, meaning a list of 10 vacancies, and a corporate referral program. As part of this program, employees usually don't recruit people they know to hot, open positions, but to less relevant ones. In the context of imperfect processes, an employer does not hire people who are needed now, but hires those who are available in the labor market. 
There are some large and seemingly successful companies that have difficulties with recruitment and retention of staff. If a large number of positions can't be filled for a long period if time (and you do not just recruit newcomers) or there is an outflow of people, then you need to deal with internal processes and start actively (or more actively) working on your Employer Brand. 
Where autumn opportunities are concerned, I would like to note that currently, marketing specialists are increasingly active in the labor market, and now is a good time to find them – if, you know how to, of course. And even taking into account the large number of orders from employers in different areas with VALUES VALUE, marketing vacancies are exactly what we are ready to work with."   
III. In conclusion 
If you want to better understand the specificities of the CIS gamedev labor market, be sure to read the interview Tanya Loktionova did with App2Top. Learn about how this market differs from the international market, as well as about the main challenges faced by companies and candidates