This is the first of our CIS gamedev job market overviews that we will be posting to the blog. This article looks at data for April-May 2018. Overviews will be published each quarter with predictions for the next respective period (winter, spring, summer, autumn). 
We hope that this information will shed more light on the CIS industry job market, make relations between companies and job seekers more transparent and honest, and help game studios plan for hiring and headhunting. We also hope it will allow employees to make a clearer assessment of the situation when looking for work.
I. This spring in gamedev
The analysis found 2714 job openings on key job and industry portals for April-May 2018. These were offers from gamedev studios posted on App2Top, HeadHunter (Russia, Ukraine, Belarus), Dou.ua, and DTF, where the highest number of gamedev industry openings were available*. The distribution of job openings by month was 51% for April and 49% for May.
*
Deeper regional cuts, for example, analysis of job openings on Rabota.ua and Work.ua, as well as on Belarusian job portals, are planned for future overviews.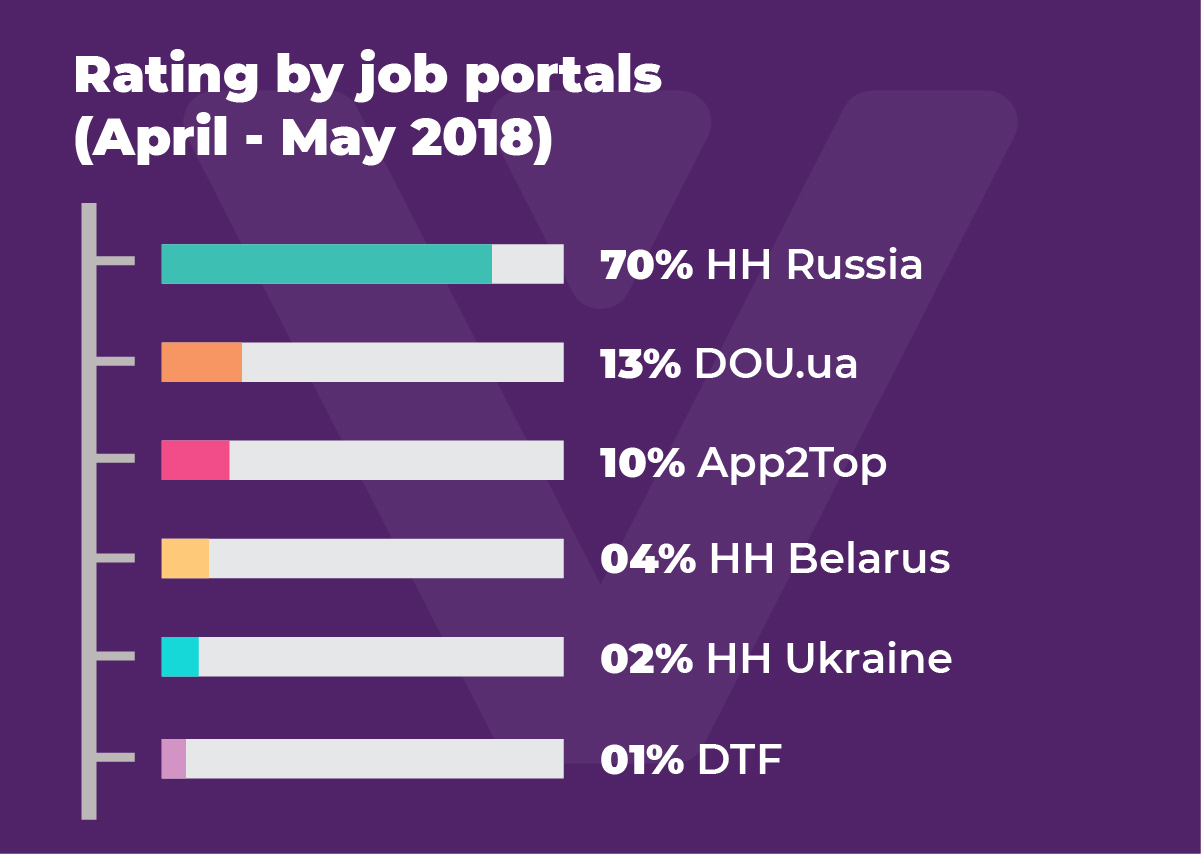 We not only segmented the data by area, but also highlighted the top 15 most active employers and revealed regional job market specificities and job openings that employers had difficulties fillaing.  
Who companies were looking for
Spring 2018's greatest demand was for developers, with 1215 job openings (45% of the total number). Unfortunately, not all employers indicated the specific technology or field of work in their job descriptions. Nevertheless, we were able to determine that their requirements varied from month to month. In April, out of the job openings that required a programming language, С++(16%) was the most commonly sought-after, followed by Java (8%). And in May, companies frequently requested knowledge of Unity (17%) and С++(16%).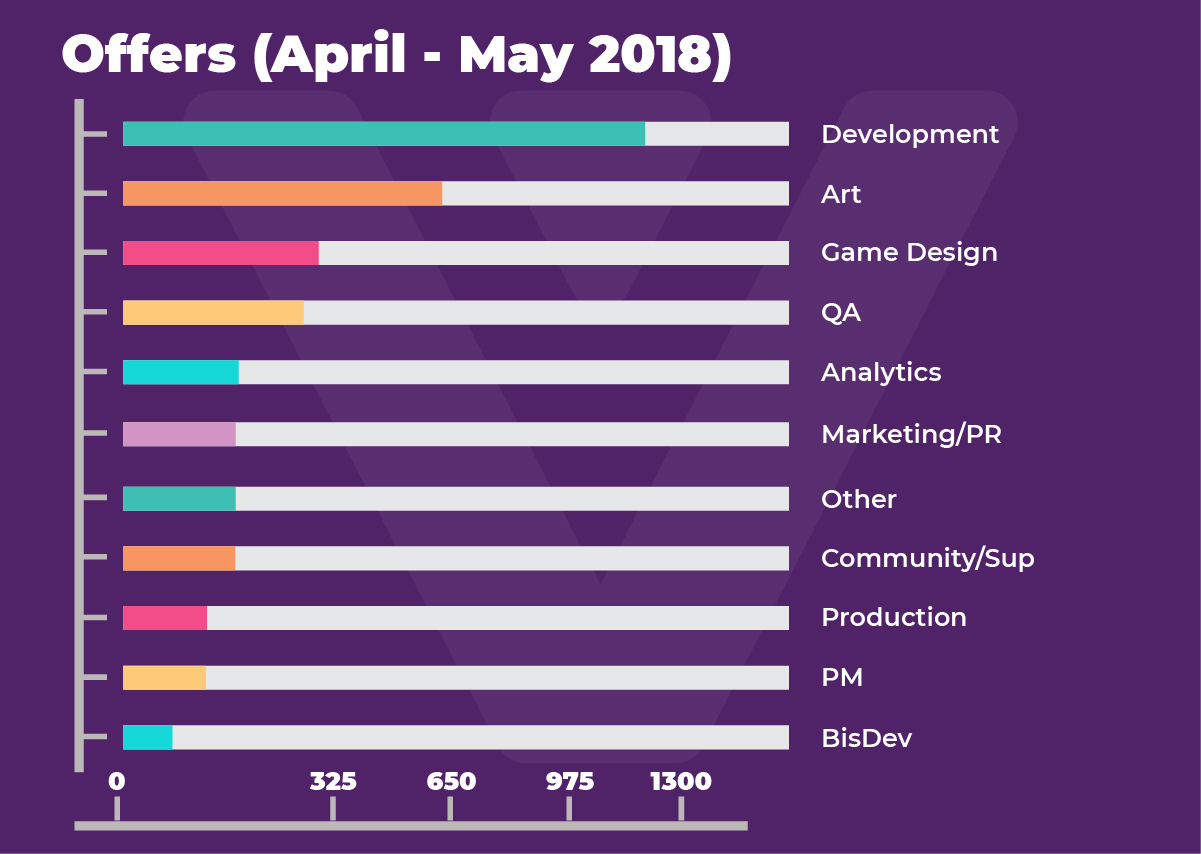 The second most sought-after employees were artists, with 608 job offers (22.5% of the total number). Of those, the most desired area of work was 2D art. One interesting fact is that in May, artists were the most sought-after employees in the Ukrainian industry, overtaking developers in sheer number of job openings.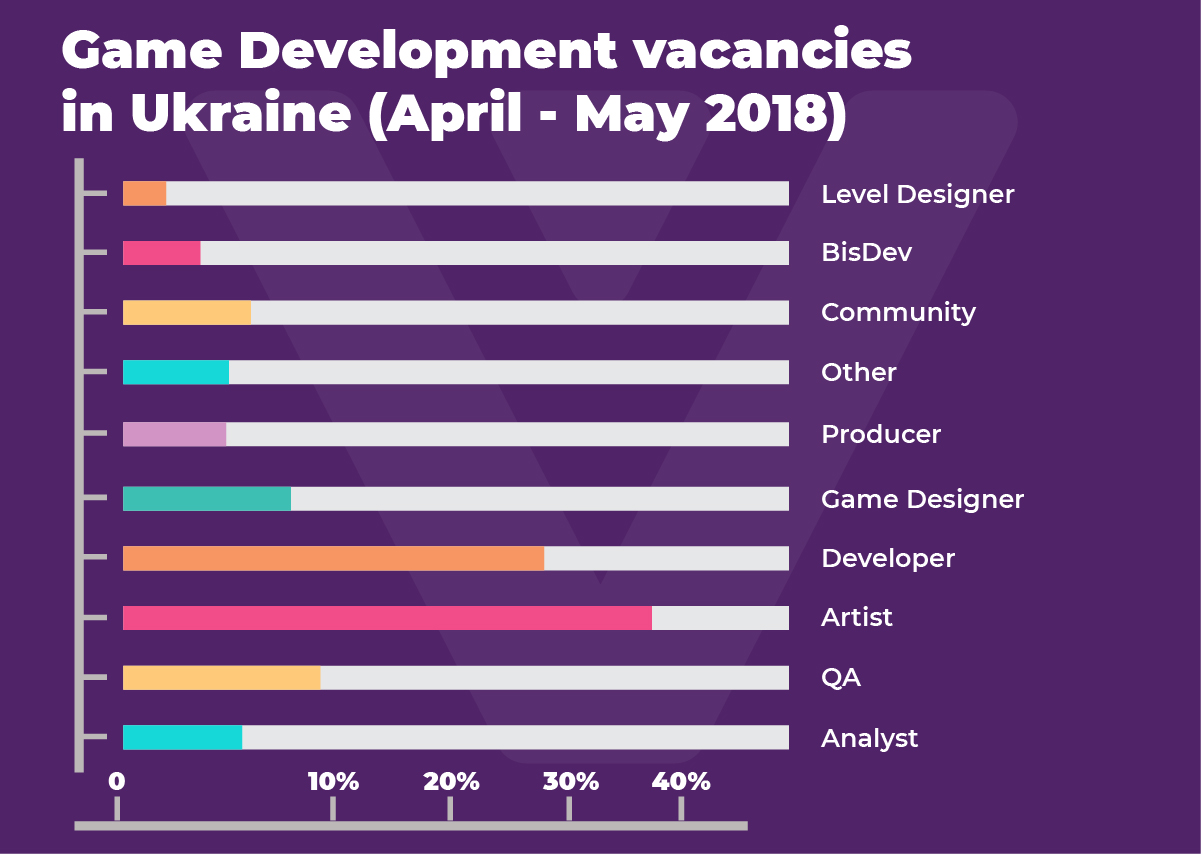 In third place for number of job openings on the CIS gamedev job market we had game designers. Almost 237 offers from employers (13.5% of the total number) were aimed at them. From April to May, demand for this specialty rose by 10%. 
QA job openings were at roughly the same level. Demand for testers increased slightly in April. Overall, the amount of QA jobs in spring was about 10% of the total number, with 182 available offers. Here's what the situation looked like for job openings in other fields: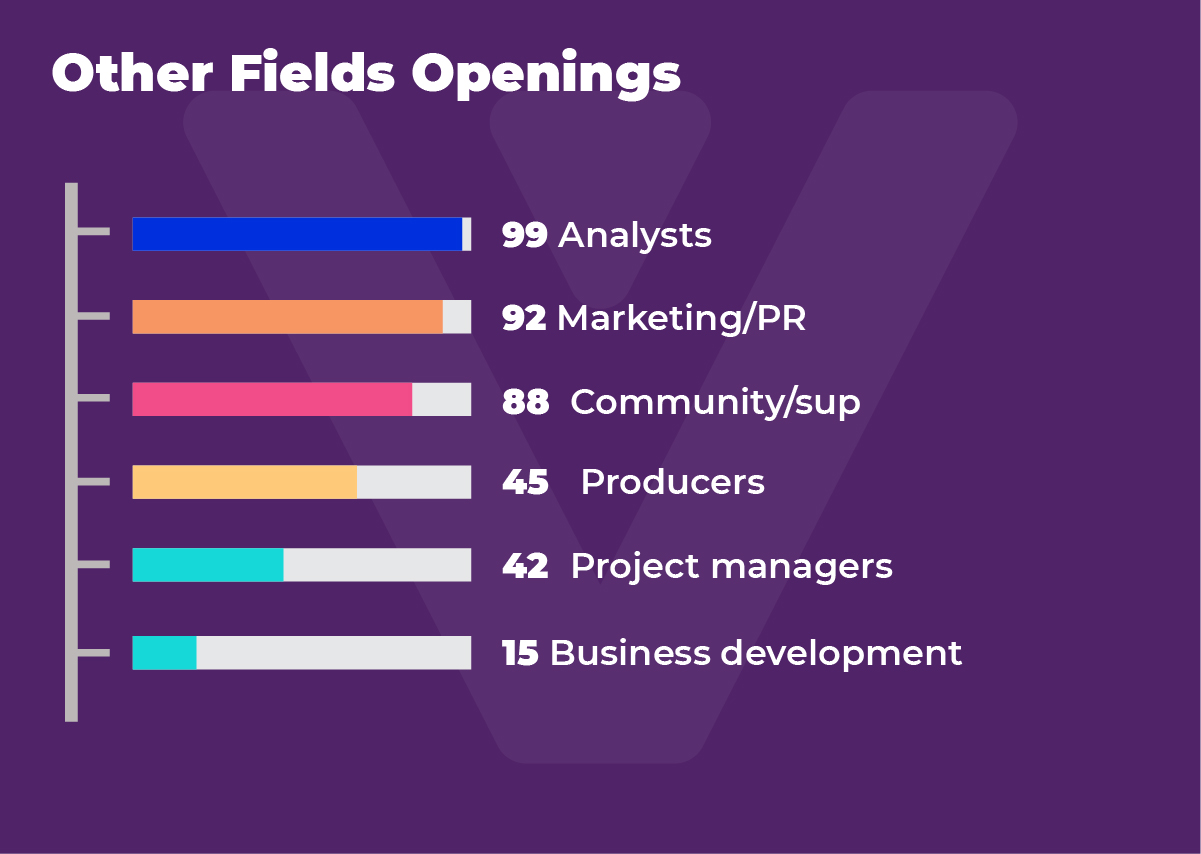 Unfortunately, employers often didn't specify what level of specialist they required in the position description. Only 26.5% of all vacancies we looked at included this information. Below we present who companies are currently looking for so as to examine the general trend.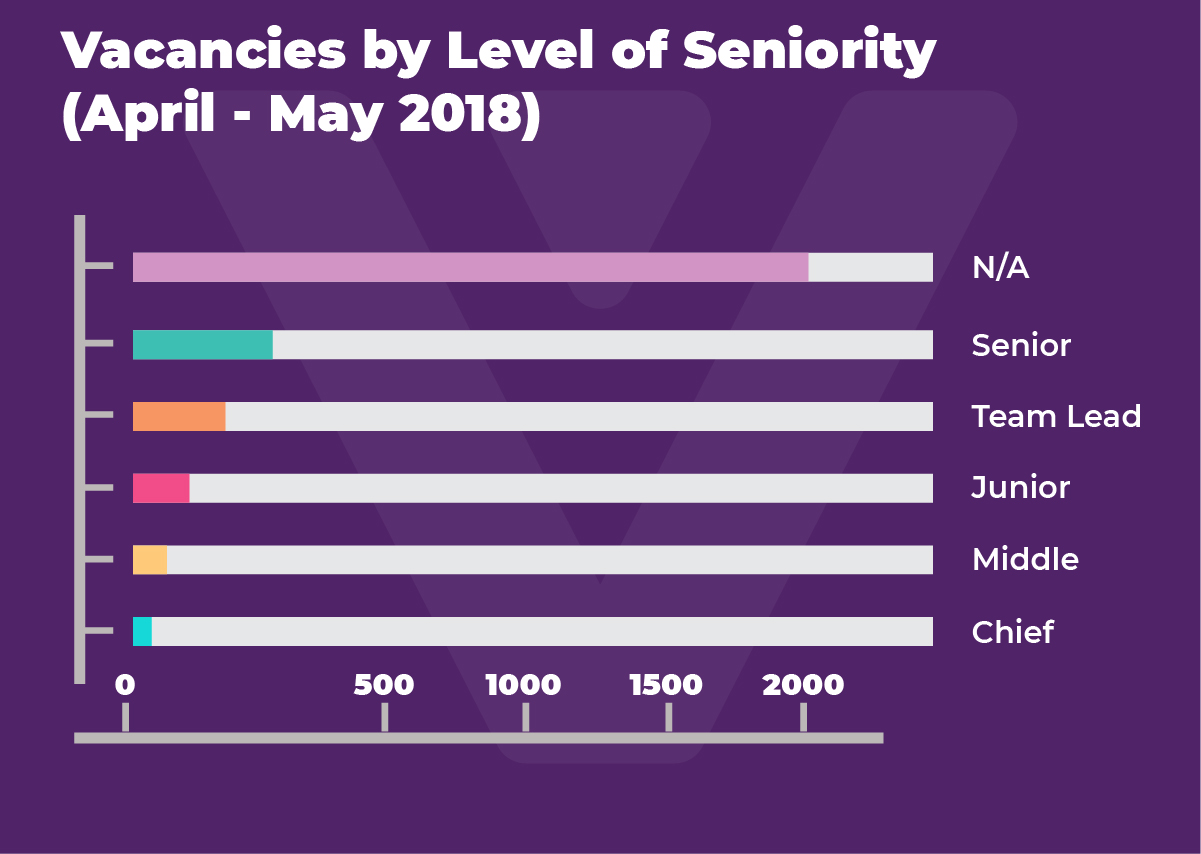 Top 15 most active employers
In addition to looking at the vacancies themselves, we also created a ranking of the most active companies by the number of job offers they published in April-May 2018 (on key portals).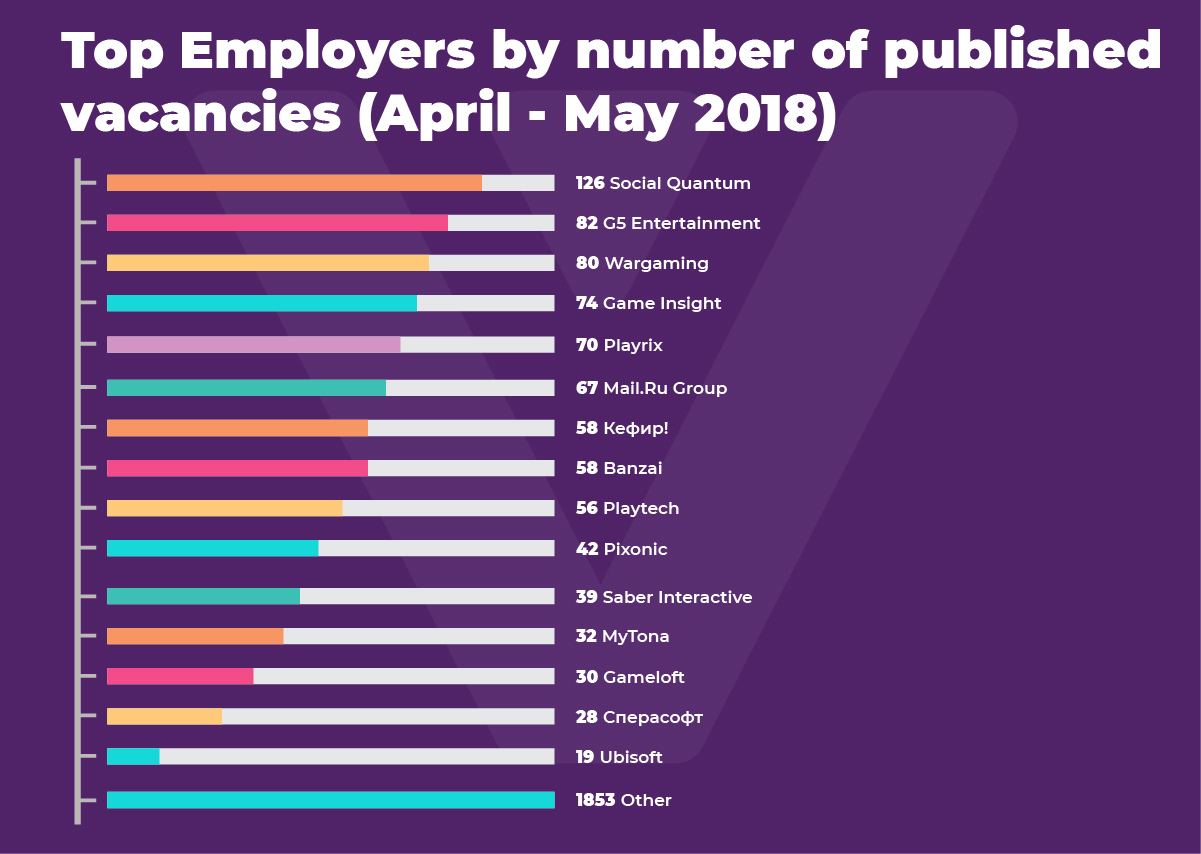 By the number of job offers, these companies combined had 32% of the total number of vacancies on the market (during the analyzed period).
In order to find out who was difficult for companies to find, we took two approaches: we analyzed accepted applications in Values Value and repeat job offers on job portals. 
According to data from open sources, most of the job offers that remained relevant for two months were from Social Quantum, G5 Entertainment, Wargaming, Game Insight, and Playrix. Most of these vacancies are for Russia. 30% of the total number of job offerings were for art and programming. 
In spring 2018 we also noticed an increase in the number of requests to find artists coming in to our company. The share of these requests was 30% of the total. Most of them (70%) were relevant only for Ukraine.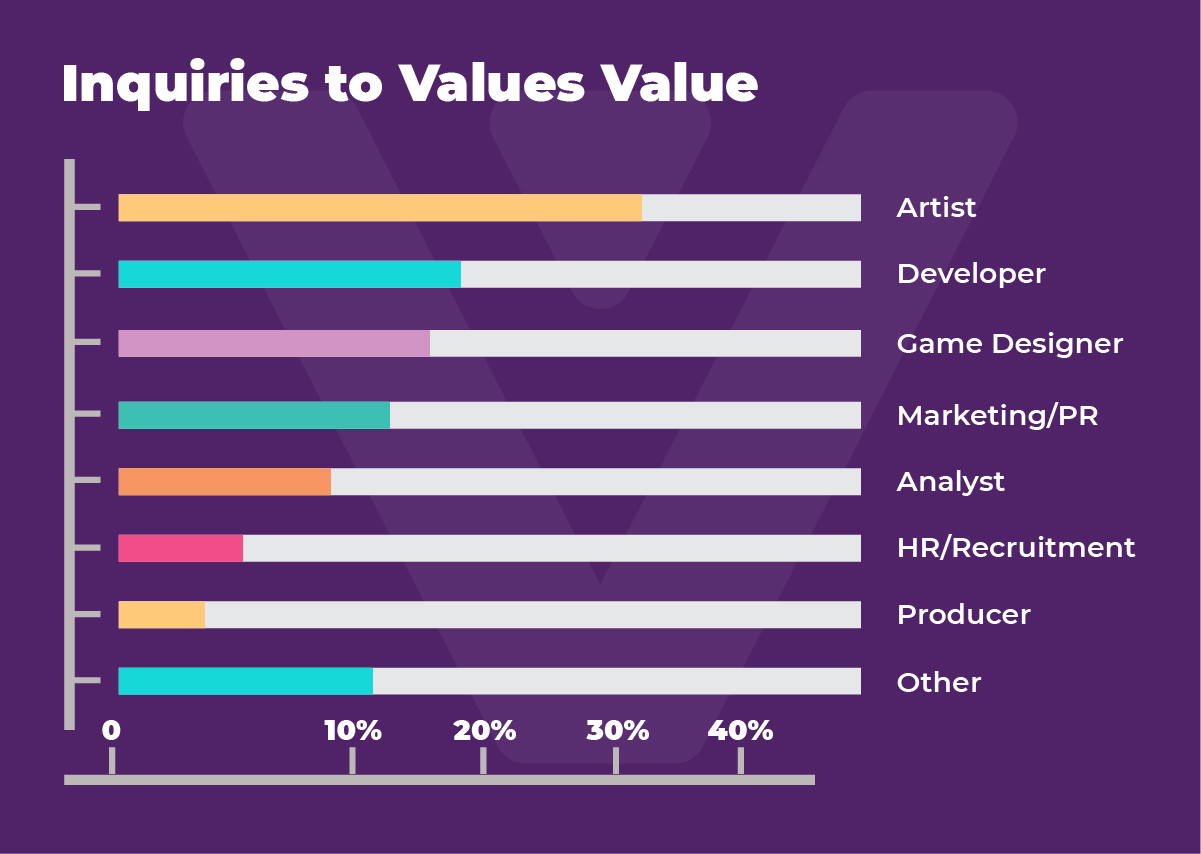 II. Forecast for summer
Comments from Tanya Loktionova, Founder of Values Value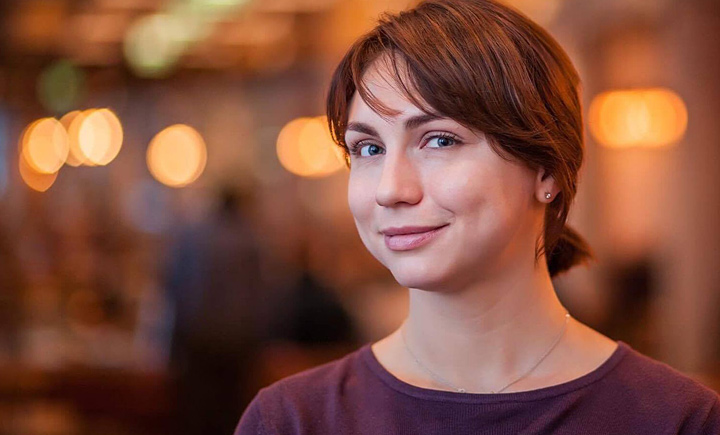 At this time, the market supply from companies is much higher than the demand for jobs from candidates, and in summer this trend will only increase. Many members of the work force will go on vacation, postponing the decision to find a new job until autumn. 
Traditionally, demand for game development specialists in summer is almost unaffected by seasonal fluctuations. This has to do with several things, for example, the fact that in summer, the large mobile companies (that own most of the market) begin to plan one of their most important updates: Halloween. Consequently, there's more work than they know where to assign, and the studios can start creating new positions to help put their plans into action. 
Summer is the most difficult time of the year to hire artists. While spring was a time when they were actively responding to job offers, from June to August we predict a delayed response or even radio silence. In this period it's much simpler for game studios to find game designers, as they are responsive to job offers even in summer. 
We assume that in summer, game companies will mainly be searching for product specialists: game designers, producers, artists, UI/UX designers, in other words, the main content creators. 
An important observation: the request volume from companies wanting to recruit new specialists in general is currently higher than can be provided by in-house departments and companies involved in specialized game development recruiting, as well as non-core recruitment agencies that were not able to gain the trust of the gaming industry. This is one reason for the increasing demand for recruiters and HR staff. We predict an increase in the number of these positions during summer, and in order to support the market, we are preparing to launch our own online training and skills development course for gamedev recruiters. 
As I mentioned before, finding artists is the most difficult thing in the summer. Art specialists searching for jobs in the summer will be worth their weight in gold. There will be a real hunt for them, and companies will use the promise of higher salaries and other bonuses to bring them in. It's worth mentioning, though, that this is mainly about mid- and senior- level candidates.  
Where demand for Project Managers is concerned, the market is currently oversaturated with candidates, and in the summer this trend may even worsen.
Also companies won't be searching for marketing specialists or User Acquisition managers very actively. Not many CIS gaming companies do global launches in the summer, and it's also not a period when studios significantly expand their marketing departments for new products. Perhaps the tension in the segment will subside a little. In winter and spring 2018 this sector of market was a vicious battlefield. You can count the number of smart marketing directors in CIS countries on one hand. Competition from the companies is so high that salaries for competent professionals doubled within a year. As for successful User Acquisition managers, some of their rates also increased by one and a half or even two times over. It is also becoming more common to complement salaries with bonuses and percentages depending on marketing profit.
Companies are now actively increasing their requirements for candidates and developing specializations. Companies are most often looking for marketing specialists with narrowly-focused, relevant experience, for example, working with specific channels or individual markets for a product line rather than managing the whole project. 
If we analyze the situation by region, the most difficult situation around marketing is in Belarus. First, with a fairly large number of awesome production companies, the job market itself is particularly narrow. Secondly, half of Belarusian studios have entered into no-headhunting agreements with each other.
The Ukrainian gamedev market doesn't contain a lot of companies where you can develop in the field of marketing. Most studios have head offices, including their marketing departments, located abroad. Moreover, entry level requirements for this field are constantly rising. Employees look for professionals who are well-versed in analytics (although this is a must-have for almost all gamedev fields) and with knowledge of English to communicate with platforms. That being said, the number of vacancies for User Acquisition managers in Ukraine is gradually increasing. 
What top specialists should expect 
If we look at the prospects for changing jobs, then top managers with game development experience and confirmed expertise will definitely be in demand. The times when a competent senior-level specialist was earning 2-3 thousand dollars per month are long gone. If yours are earning that much, you can almost be certain they'll be hunted away from you very soon.  
What should top managers do to stay in demand? First and foremost, they should build a personal brand, without meaningless spamming on social media. Giving powerful presentations at specialized conferences and publishing their expert position on social networks and game development portals will be beneficial. Secondly, they'll have to learn English or improve their English language skills. For now, CIS game development companies are just in the first stages on their way to maturity. But we can already see improvements in this direction, and entrance into new markets lies ahead. Opening offices in Cyprus is only the first step. In the next few years, successful studios will start opening offices in Eastern, Central, and Western Europe. Some studios have already done so, for example, Wargaming (Czech Republic, Finland, Germany), Pixonic (Germany), Zeptolab and Vizor Interactive (Spain). And this is just the beginning. 
Europe has its own, more highly-skilled top managers, whose salaries are comparable to those of directors in CIS countries. This means competition will be high. And coming out on top among this competition without knowledge of English is almost impossible. A top manager must speak the same language as the employees in their offices, whether they are in post-Soviet countries or in English-speaking ones.
In addition, over the past year, for example, Chinese R&D teams have started opening offices in Ukraine. And if your plan is to grow and become head of a development studio, English is, again, necessary.
You can check the average salaries on the market and comparative analysis for two years in this report: The big salary survey 2018.
Despite a 7% decrease in median salary in 2018, I feel that over the past year in CIS countries there has been a huge increase in the salaries of highly-qualified specialists in almost all gamedev fields. I would say it has roughly doubled. This means that companies have begun to understand that expertise costs money. The tumultuous 2010s, when everybody worked on sheer enthusiasm, have come and gone. This year, for example, compensations were revisited and salaries were increased at some companies that were previously considered a dumping grounds in the CIS industry. 
The willingness to pay not only for hard skills is an important shift in the mindset of employers. Therefore, those who consciously made an effort to go into game development and truly love games will end up earning a higher salary. The scope of these employees' responsibilities is not just 'draw an icon', but also looking at it from the user's point of view and drawing on their own gaming experience. 
We also expect that the people who are engaged in supporting games as services will come out from the shadow of undercompensation. I'm talking about Community/Support managers, artists and designers, influencer relations specialists, and those who are involved in the marketing side of things. People who work in large and successful teams. Their value on the labor market will grow, and companies will increasingly invest in their retention. 
Should we expect reduction?
Several game development studios close down in the CIS countries every year. It usually happens at the end of the financial year (November-December) or following the results of a global launch of their key project, which most often takes place in autumn. Summer reductions are extremely rare, happening only in the event of some force-majeure or when a soft launch was drawn out for several months.
A large number of Junior specialists will enter the market in summer. First and foremost, these are the kids who dream of becoming a game designer, and those who want to take the classic route and enter the industry through QA.   
However, breaking into game development with no experience at all is getting harder and harder. 
So my advice for new recruits is to:
Find a job through networking. To do this, you'll have to actively network, which includes going to conferences and indie hackathons. This method is excellent because it really depends on mentality. 
Get your foot in with companies who are really engaged in training and acclimating junior specialists. Ubisoft's internship program for C++ developers is a great example of this. Go study at Scream School, Art Craft, or Games Academy. Devtodev (courses on the analytics that everyone should know) will also be useful. 
Constantly monitor the job market. Look for positions that don't require experience and, of course, hope for good luck. Luck is really important when job hunting. But you also need to be sure you're well-prepared for interviews. Think about how to present yourself and to explain how you realized that you want to go into the video game industry in general, and why you choose this specific profession. 
Always be acquiring new knowledge and educating yourself. But don't forget that playing Dota for 14 hours a day does not increase your value as a game designer. Companies will only give you a job and pay you a salary if your gaming experience is supported by expertise. On the other hand, it's a bad idea to try and break into gamedev if you don't have any gaming experience or passion for games and are just trying to get a piece of the IT money cake.