Tanja Loktionova will delve into the latest trends in the games industry, specifically focusing on the HR trends of 2022. She will explore the impact these trends have had on the job market and provide predictions for what's ahead in 2023. Join Tanja as she shares her research findings.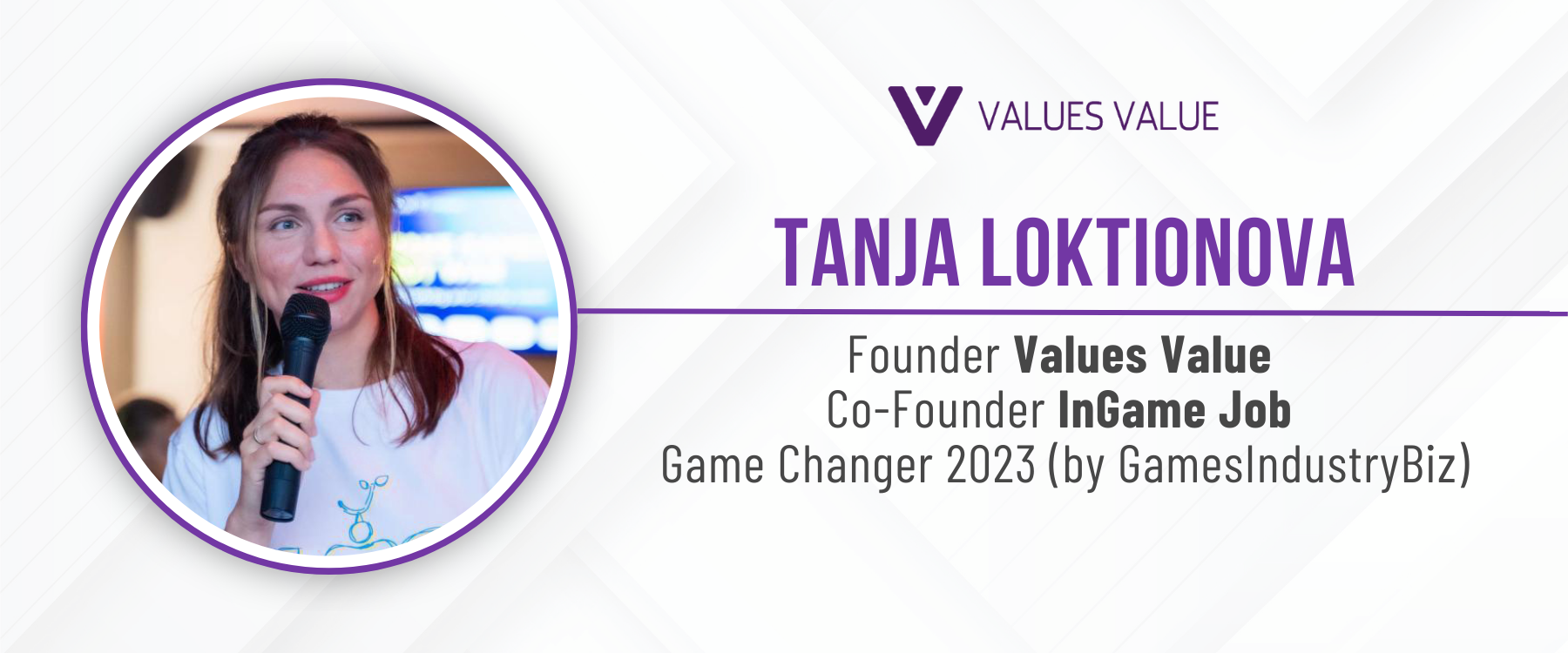 Co-founder of InGameJob.com, a job search platform for the game development industry. Founder of VALUES VALUE: Recruitment for Game Development Industry. 
Initiator of the Games Industry Big Salary Survey, producer of Talent Management Track at DevGAMM, and author of the online course "Introduction to the Game Development Industry" (devtodev).
Before founding her company in 2017, Tanja had been working as a top manager in gamedev studios for over 5 years, with roles spanning both the business and development side. She calls herself a hardcore casual player who loves games and cats.
You can watch a video stream on the topic of this article on the DevGAMM YouTube channel.
2022 started without any tricks
At the beginning of the year we had a growing, booming, and beaming market with further expectations to grow; and a huge amount of investments. The future of the industry was bright and happy.
We saw trends of globalization and consolidation. There were lots of mergers and acquisitions.
Metaverse and Crypto attracted a lot of attention, from investors in particular. "Sexy" startups could choose their investors, not vice versa.
We could see constantly growing demand for employees and it meant that everyone headhunted everyone, and professionals were welcomed from neighboring industries. Beside that, mobile businesses were looking for talent from the games industry — especially user acquisition, data science, analytics, etc.
There was a layer of entry level and junior roles in existence (which now suffers the most; and, unfortunately, will continue to suffer the most in 2023.)
There was a mix of remote and on-site formats of collaboration – employees could choose the way they worked.
Salaries were only getting higher. A year ago there were even talks about such exotic compensations and benefits like cancer and critical insurances (which were normally only possible for the top managers and C-level).
We felt the impact of IDFA, but it wasn't that obvious, and it wasn't a global impact on the whole industry — on the investment climate and evaluation of the gaming businesses and platforms.
Metaverse was growing. Meta planned to hire 10,000 employees in the EU alone, but instead there is now confirmation of 11,000 layoffs this year. And it doesn't mean that it is the final point and we will not witness more layoffs in the upcoming year.
And what happened next?
Our rainbow ideas about the future began to melt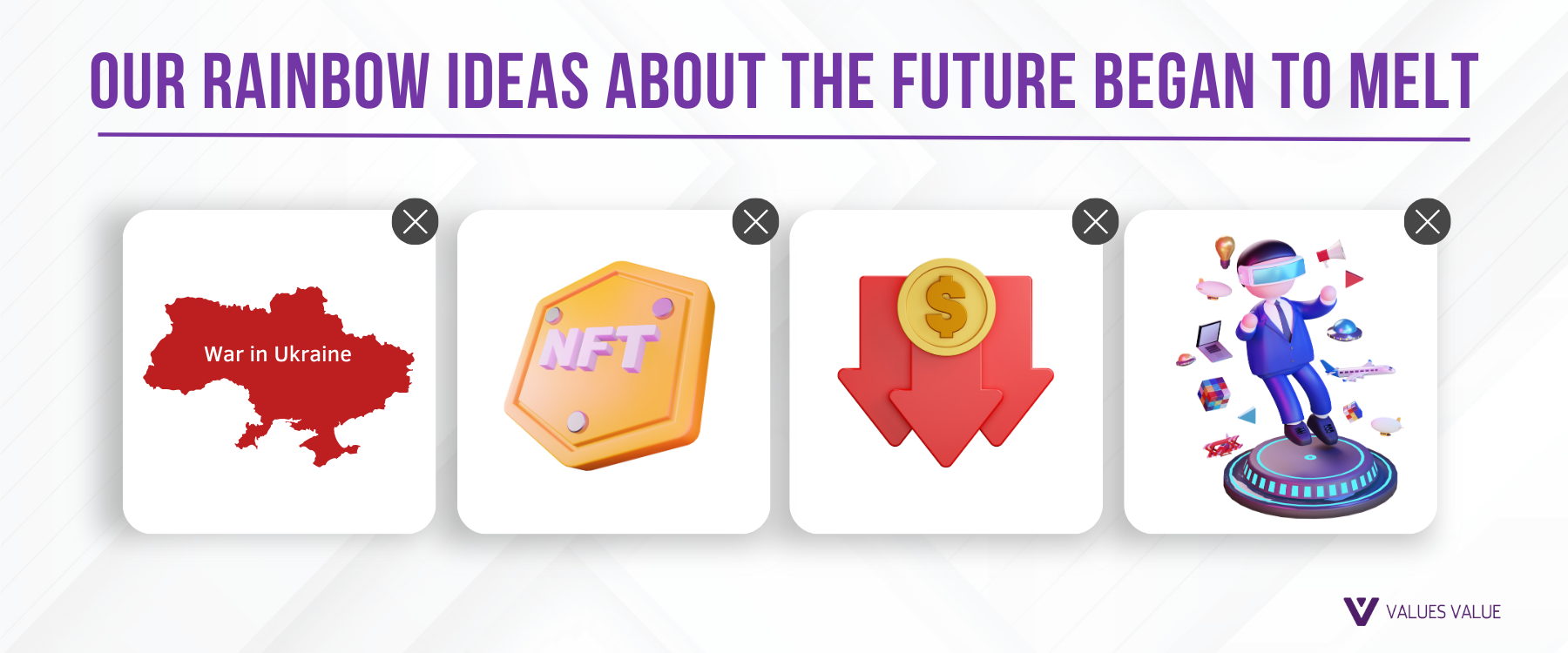 Then we felt the post-pandemic effects: increased cost of living, issues with the supply chain, and the expectation of a recession or at least a slowdown in economic growth.
Then the war in Ukraine started. Russia attacked Ukraine and invaded its territories. And this has influenced almost every person in the world, even if they don't realize it by now. It started a huge crisis for Ukraine, of course, but also for neighboring countries and for the whole world itself. 30,000 Ukrainian employees were under attack, at least 20% of them had to leave their country, and around 50% became IDPs. And of course, it influenced around 400 companies and teams based in Ukraine. But, at the same time, some of the Eastern European and Baltic region companies have won because they have experienced a wave of highly skilled migrants who, in most cases, were open to new opportunities on-site.
Then we witnessed a crypto-winter. This booming, prosperous, and promising market of crypto and NFT games started to experience great problems, and currencies themselves too.
Inflation started to rise, and recession seemed to have started, despite some people, like economists, saying that it hasn't started yet. Investments also slowed down throughout the world.
So as a result, the total market value dropped down, it's -4.3% compared to 2021, according to Newzoo.
Total Market value – 184.4bn (-4.3 YoY) 
Console – 4.2% YoY
Mobile – 6.2% YoY
Browser PC – 16.7% YoY
Downloaded/Boxed PC +1.8% YoY
*according to Newzoo
Stock price performance also makes us worry. According to GEM Capital, stock prices of diversified companies which have mobile, PC, and console games in their portfolio, dropped down by 16%, PC/Console-only – by 34%, and Mobile-only – dropped down by 45%. Also, the platforms which are industry forming for us dropped down by 82%.
How has IDFA changed the industry? What conclusions can we already draw? Now, companies cannot track users in order to optimize costs, so they have reduced marketing expenses. It means that platforms earn less, and we have lower valuations both for the games industry and for the companies. So, it's a very interesting chain: the less we spend — the less evaluation of the mobile market and the mobile companies we get.
The crypto-winter brought less trust and there were not too many success stories. There were lots of promising starts, especially with NFT. But then we all witnessed loss of interest in NFT projects and less investment into projects that didn't have very big names behind them.
The metaverse has become meta-skepticism. And some of the projects are no longer called metaverse projects — they now call themselves something like meta-sites, meta-worlds, and so on.
Global HR Trends
Investing in existing talents and optimization of the recruitment processes
In 2022 we could see that hiring, especially severe hiring, was no longer an option for companies, as they tended to invest in existing talent. And if we speak about recruiters and HR managers,  they experienced problems regarding that. One of the trends of 2022, that will definitely influence the 2023 year and (even) the next decades, is optimization and automatization of recruitment processes.
For instance, Apple downsized 100 contract recruiters and freezed their recruiting activities. Also, recently there was a leak of information about Amazon's artificial intelligence technology called automated applicant evaluation. There was news with headings like: "Amazon is going to fire all of its recruiters next year". However, it turned out it wasn't going to be  all of the recruiters, but all the junior and middle roles, because Amazon plans to replace them with this automated applicant evaluation. So, AI is going to compare the CVs with the CVs of the existing employees, then make screenings, organize the pre-recording of the first interview, and then organize the logistics of the next stage with hiring managers and the candidate.
Hybrid format is not an issue anymore
In the hybrid model of office and remote now in the workplace productivity is not the main issue – everyone has learned to work remotely and in teams which are spread around the world. Now the issue is the culture. How do you build the culture with hybrid and remote models?
Transparency, DEIB, and reducing bias
Employees don't expect much higher salaries, but they expect transparency. Diversity, equity, inclusion, and belonging are very important for building a strong team, and the recruitment strategies should be based on them.
Also, training programs for reducing bias are gaining popularity. These programs are designed specifically to reduce bias in the companies.
Managing layoffs
Staff reductions entail the need for recruiters and managers to improve the skills of managing the layoff processes. It is possible that information products such as courses, master classes, and internal training programs on this topic will appear on the market.
Games Industry HR Trends
It's no longer a candidate market
This is no longer a candidate market. What does that mean? A candidate market is when they can choose where to work. Sorry, but now we have the companies' market.
Acqui-hiring is not an option
In the previous years we saw a great number of mergers and acquisitions which were not connected with the IP acquisition, the user base, or technology acquisition, but just for the hiring of the staff (so-called Acqui-hiring). It seems that in 2023, that's not going to be an option.
Focus on skilled and experienced candidates
Companies are focused on hiring experts and senior specialists, though there are still a lot of middle level roles. Nevertheless, companies can choose between middle and senior roles – as a result, they can suggest a lower compensation to a senior specialist and they would probably agree with such an offer.
Declining of hyper casual market
Hyper casual is declining not only as a market, but also as a place of work for employees. And most of the companies optimize and cut costs. Mobile feels better, but the more casual the genre is – the less guarantees the employee has, because it is a shorter development cycle. Employees are more protected on projects with longer development cycles with the latest appearance to an audience. That is why the most resilient companies at the moment are PC/console with projects based on existing IPs, from the companies with previous success or with the companies that have the whole investment up to the release, for example, for the upcoming 2-3 years. Such companies can be the most stable and resilient employers at the moment.
Significant difference in compensation for "traditional vs Web3"
There are still significant differences in compensation for mobile and PC/console games, and for the web3 (those metaverse and crypto projects), especially due to the market volatility. The candidates tend to stay where they are until they are, unless they are laid off and they don't change jobs unless there is some critical difference in compensation.
EU-based companies shift to contractors
More and more EU-based companies have shifted to contractors in order to avoid the really strict laws in place for laying off and cutting staff. So, that is why there are whole companies that hire only on a contractual basis.
Less experiments, proven experience in demand
There are less experiments with hires and everyone wants to deliver successful projects in their portfolio. So, if you're thinking of changing jobs now, wait for the release and only then change jobs. The released project on your CV will play into your hands in the labor market, and will be a confirmation of your experience.
Amount of entry level and junior roles decrease
Every job portal which runs at least primitive research on the job market will say that the amount of entry level and junior roles decreased, especially in the US. InGameJob.com research also showed that month on month the amount of opportunities for juniors/entry level is dropping.
Marketing and UA face significant dropdown of demand
The most vulnerable specialties this year are marketing and UA – they have faced a significant drop down in demand. Besides there were layoffs in Applovin, Adjust, Unity Ads, Meta, Twitter, and so on. So this market is very vulnerable at the moment from the perspective of an employee.
Slow processing
If 2021 was the year of very fast offers and very quick processing – now, when the companies have an opportunity to choose, when their hiring plans are more sophisticated,, the processing has become very slow. The time to make a decision has increased dramatically.
Layoffs
We need to know that we saw only the smallest tip of the iceberg when it  comes to layoffs and understand the real situation going on in the industry. So, there are layoffs announced within the games companies, but there is also a tricky thing called the shadow mode layoff.
The shadow mode layoff is when a company cuts all the employee benefits; when the company says "we have no performance reviews and no salary reviews this year, and no cookies in the kitchen!" And when an employee comes to negotiate an offer they say "okay, you may go". We have an example of a company which has laid off almost 400 people this year in such a way. The strategy of not retaining an employee leads to a gradual reduction in staff.
The layoffs in the industry forming companies have really impacted our industry.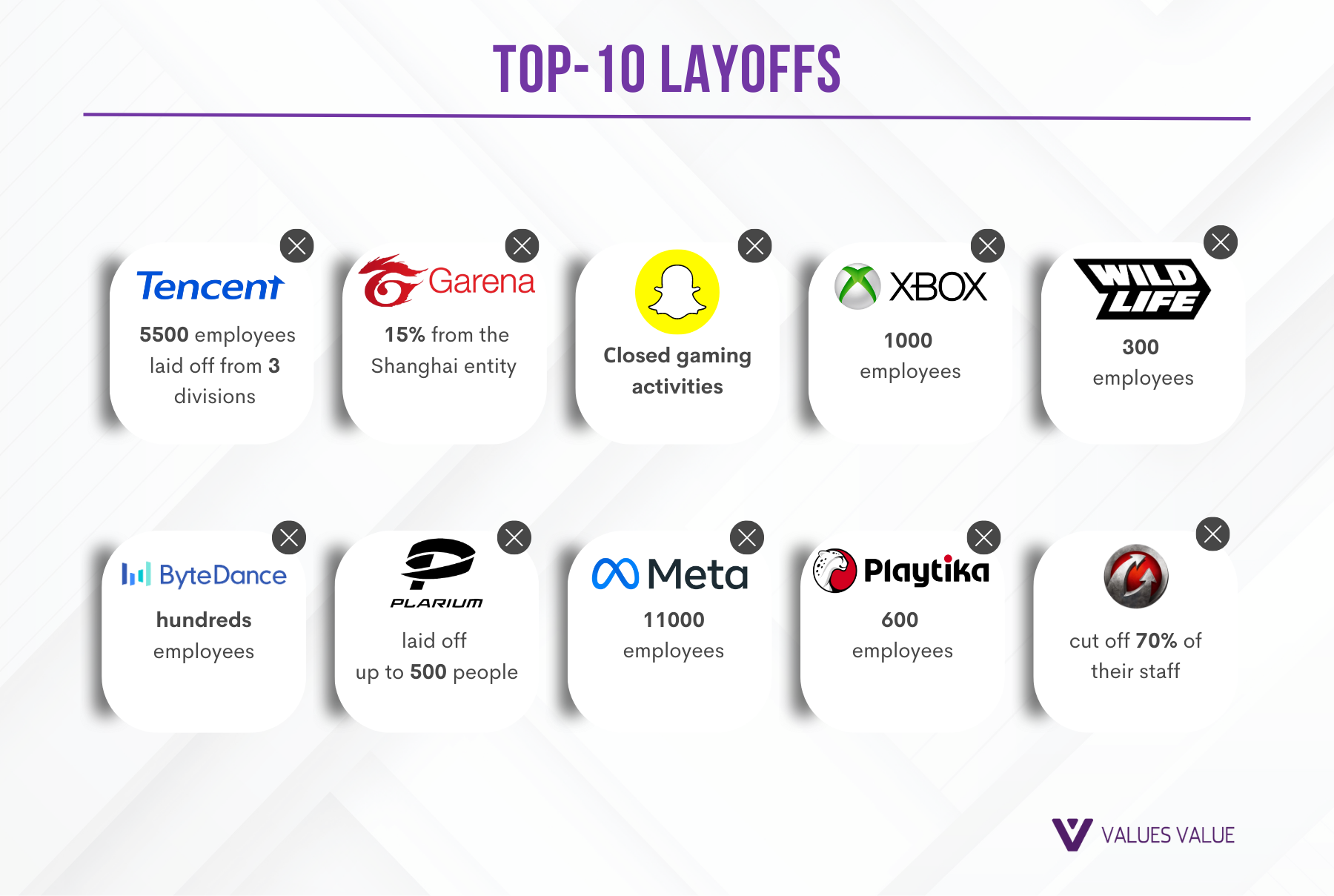 Each year Tencent can surprise us. Either with the highest amount of mergers and acquisitions or investments, or with a lay off of 5500 employees.
Snapchat closed their gaming activities.
XBOX fired 1000 employees. Microsoft itself had much bigger numbers of layoffs.
This is not official information, but up to 350 employees have already been fired in Playtika including a hundred people from Dnipro, Ukraine. And according to the official information – they fired 600 people. According to unofficial information – 180 people more in Israel are going to be or are already in the process of being laid off.
Game Insight has released their employees (Because of how unethical this reduction was, let's say "they have released their employees", not just "laid them off").
Wargaming said they have cut 70% of their staff. We counted that it might be noless than 600 people.
Plarium laid off up to 500 people.
Garena cut 15% from the Shanghai entity.
ByteDance cut hundreds of employees.
Wildlife cut 300 employees.
AI will steal our jobs. Or not
A friend of mine has run an experiment: he had two middle level roles in his company and candidates were supposed to fill in the application forms with some questions, and he tricked his business partner and filled in this form with the help of one bot, and both of these forms of applicants were invited to the next interview. So, next year we are going to see the rise of AI in absolutely different spheres and genres, not only in art.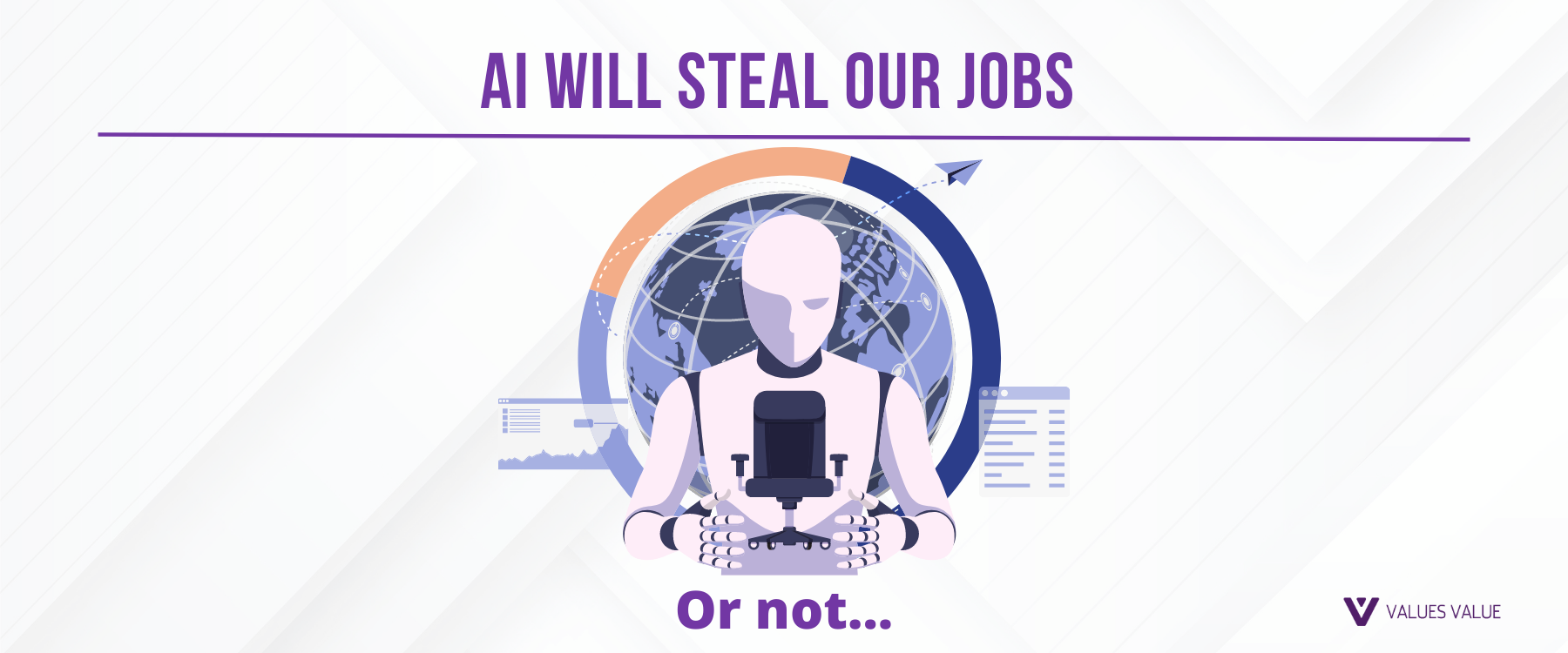 2023 Predictions
What do we have to wait for in the games industry people management and talent acquisitions spheres?
Definitely layoffs and cutting costs.
Web-3 releases and ongoing boost or anti-crisis. So, the most interesting thing is going to happen when we see the real results of those millions and millions of  dollars invested into crypto and metaverse projects. Because, either it will boost and attract new players or there's going to be huge demotivation.
There will be investment on the side of the companies in their existing talents. So, prepare to study a lot, and to develop your soft and hard skills next year no matter if you are an employer or an employee.
There are going to be top-notch hires. The companies are going to be very picky.
Companies will have their HR managers or those who play their role inside the company – they will focus on processes, performance, and culture versus this mad talent acquisition. They will also have time to work on their HR brand, because the crisis is not forever. A year is not a very long period of time. We will already see the changes in the first quarter.
There will be a slowdown if not freezing of salaries' rising.
All kinds of optimizations, not only tax optimization: companies will work more and more with contractors and freelancers from new locations, especially from Asia, MENA, and Latin America.
Some good news and what can be done
Good news
The games industry is traditionally recession resilient. We will start growing again. And again – it will become a candidates' market.
The industry is still growing compared to pre-pandemic times. It seems that it will be one of the convincing points for investors that not so many industries are going to grow compared to pre-pandemic times.
We see that metaverse projects still get investments and crypto game startups hit big rounds — they set up new investment funds, focused on crypto, and crypto games make great hires. Imagine, Activision Blizzard CEO announced in December that he is leaving the company to join a gaming blockchain startup. So, there will be rounds, but of course not that easy rounds with seed and pre-seed. Many teams will face great hardships trying to raise their next round, but investors will be more likely to give money for A and B rounds, and there definitely will be mergers and acquisitions.
What we can do
We can invest in our teams and ourselves. The best investment is education. Make ourselves resistant to any AI introduced into our job.
We should choose new jobs wisely (for example, think twice about hyper casual). We should try to find out how much money the company has and when the next round is expected.
It's good to keep an eye on layoffs in the market.
We should be ready to take on extra tasks and responsibilities.
And a message to global companies: optimize your costs with outsourcing from Ukrainian teams, consulting, and service providers.
Looking for market analytics?
Since 2017, we have been helping video games industry companies to hire entire teams, headhunt top-level talents, study the labor market and salaries in the industry.
We can conduct a comprehensive analysis of the market, including salaries, perks, benefits, and competitors. Our approach involves gathering data from our own research as well as aggregating information from open sources.
We provide research services upon request for a fee.
Learn more about our market analytics service!
Check out our other posts!