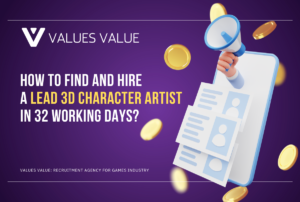 Hey game dev folks! Are you ready for a series of cool recruitment cases from Values Value?
The first case is about finding a Lead 3D Character Artist for the global gaming company with HQ in Asia and an office in Ukraine. The client was ready to consider Ukrainian candidates for a remote format of collaboration. The key requirement was a high level of English because it's a language of communication with managers.
Project: real-time development strategy game, mobile.
Profile of the desirable candidate and search difficulties
It was important for the employer that the candidate had managerial experience and strong hands-on experience at the same time. 
At first, the client did not consider candidates with realistic portfolios, looking only for those who had a portfolio with stylized characters like in Disney/Pixar cartoons. But later, the employer decided to give a test for candidates with realistic characters in the portfolio also. As you may know, artists do not always have relevant portfolios, there are many works under the NDA. And if the candidate claimed that he had experience with stylized characters, then he was given a chance even without examples in the portfolio. The client made this concession thanks to regular communication with us and thanks to our arguments that we may lose interested candidates.
The peculiarity of the client's national market and corporate culture was the lack of flexibility. At first the company was not ready to adapt to the Ukrainian market. But later, in communications with us and candidates, this flexibility appeared. 
Before the start of a full-scale war, experienced artists did not want to move from such locations as, for example, Lviv or Kharkiv. And if they were ready to relocate to Kyiv, they added +1.5-2K USD to their salary expectations. The client did not know this, but after we showed them the analytics and case studies from practice, the employer decided to hire even the lead position remotely.
During our work on this position, we faced the following difficulties:
Rejections of candidates' portfolios on the client's side;

Candidates were not ready to do the test task;

Candidates have low level of English;

Candidates relocated from Ukraine because of war and willing to work in European studios.
How was the work going?
Values Value recruiters have found two specialists for this vacancy who got offers. The first candidate did not pass the probation period (it turned out to be difficult for her to work from a different time zone). We at Values Value always guarantee the replacement of the candidate to the customer. The second specialist we found has already passed the probation period.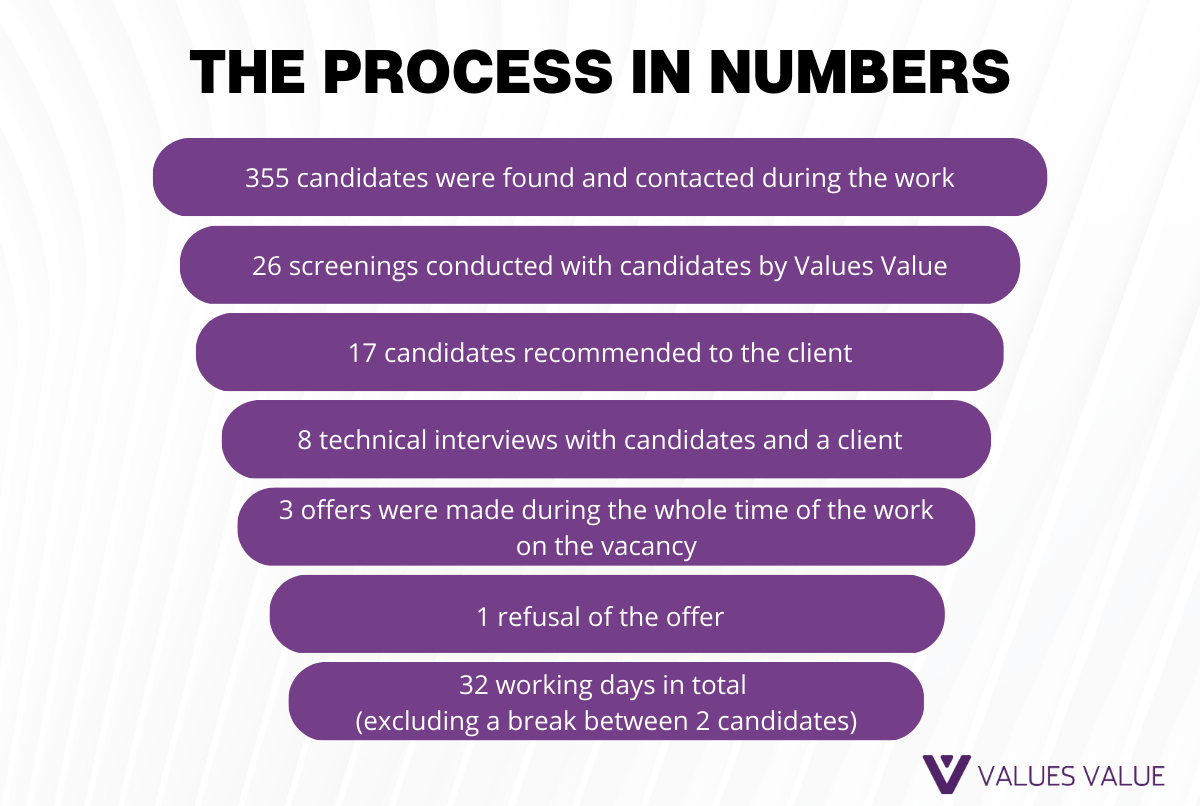 From the Values Value side, the process was owned by Sasha Kononenko, the Recruitment Lead. The sourcer on the project was Valeria Bakhvalova, the Head of Sourcing. Great job, Sasha and Valeria!