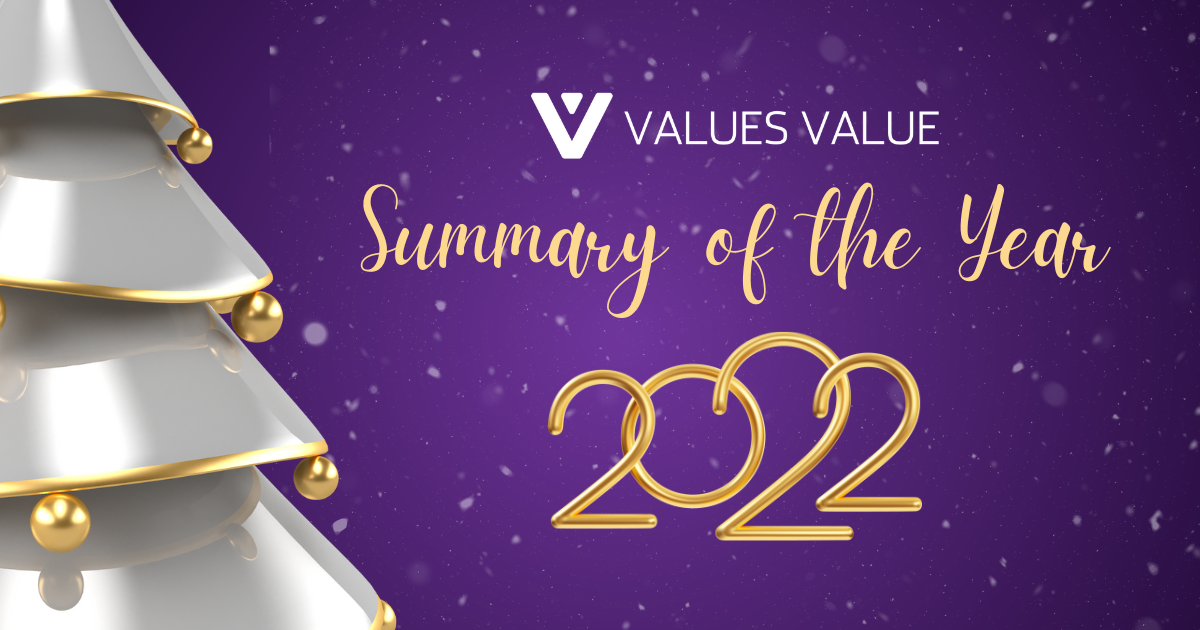 The year has been challenging for everyone in the games industry and for Ukrainians in particular. In this short article, Tanja Loktionova, Values Value founder, will share the year results for the company.
Adaptation to the new life 
We at Values Value have already adapted and learned to work not only under sirens, but also in a very complex information and emotional field. Like many Ukrainians, all Values Value teammates managed to find their fragile work-life or rather war-life balance. This couldn't have happened at once.
During the first two weeks of the war, we did not work at all: some of us were leaving Ukraine under the sound of sirens, and some of us were trying to help colleagues in the industry and suffering civilians. Then we started working as hard as possible and gradually adapted to the new life. Now we all work remotely from many countries: Poland, Croatia, Czech Republic, Cyprus, Georgia, Ukraine. And we are at the level of last year's productivity. I can't stop admiring my team!
New markets, new challenges
As a result, our business has passed through all turbulence, and we are finishing this year on a positive note and a positive P&L. The most important – we have kept the core team, and it has a very strong bond. 
We have limited cooperation with businesses from the Russian Federation and the Republic of Belarus and entered new markets. We managed to retain a number of our regular customers (22% of all companies we worked with after February 24th) and get new clients (78%). 
During the year, our candidates accepted 38 offers from our clients. The average number of working days we spent on a vacancy with an accepted offer is 41.2 (last year, this index was around 46, we managed to become faster without compromising the quality). 
The average number of candidates in the pipeline is 167. The minimum number of candidates for a vacancy is 30 (Head of Analytics). The maximum is 394 (UX Lead).  
What we are very proud of is the high response rate of candidates for our vacancies. On average, it is 75%, but there are positions where the response rate reaches almost 100%!
The number of clients that don't have any connections with the Eastern European region has increased this year. Now the majority of our customers are EU-based, American, and Asian companies. 
What difference did we notice when working with the European market? It takes longer to process the candidates and to make decisions compared to what we got used to with the Ukrainian companies. We had a case when we found a candidate in April and the company scheduled the interview with them only in August. We've managed to adapt to this speed and by the end of the year can run much more positions simultaneously. With a smaller team compared to late 202, we manage to work on the same number of vacancies as before, with the same quality.
Partnerships, initiatives, public talks
We managed to maintain our core partnerships and support each other in the turbulent times. Our partners, the DevGAMM and Games Gathering industrial conferences, held events in Vilnius and Bratislava, and we organized job boards there. 
Anna Klymovich, Recruitment Consultant at Values Value, attended the Games Gathering Conference in Bratislava to have a talk on how the war and Russian aggression influenced the 30 000 specialists industry in Ukraine. Sasha Kononenko, Lead Recruitment Consultant, also had a public talk at Games Gathering's event "Gamedev Under Bombs". I also spoke twice at DevGAMM; one time with a report on salaries in the Ukrainian games industry, and the second time — on trends in the industry that affect HR processes.
Values Value teammates have also attended other conferences in Europe – Devcom/Gamescom, Digital Dragons, GIC, Game Access and others. Sasha Kononenko, Lead Recruitment Consultant, visited Gamedev Camp as a speaker and answered student's questions regarding employment in the games industry. You can read her advice at this link.
I also participated in the panel discussion "How can we effectively integrate incoming international professionals?" on PEOPLE & CULTURE FESTIVAL 2022, you can check it out here.
Also, together with colleagues from InGameJob, we conducted a Big Salary Survey among Ukrainian specialists. We investigated how the war affected the industry: how salaries have changed, the attitude of employees to the employer, how many people have lost their jobs and much more. You can watch the full report and a video on it from DevGAMM at this link.
Changes in staff, increasing the share for partners
Our staff has decreased somewhat over the year; this has happened organically. Some of our colleagues decided to start a new chapter. For example, Alina Mudraya, CEO, set off for a sabbatical and to search for a new role in HR or recruitment inhouse in the EU. Alina stays with us in the role of the company Partner and as an important part of our history and success.
At the beginning of the full-scale invasion we increased the company share for partners and introduced one of the employees, Anna Vashchenko, the Recruitment Lead, into the partners ahead of schedule. In times like these, we have to stick together. 
How we helped the Ukrainian game dev
With the support from our partners, we have organized a charity initiative this year to help Ukrainian specialists and businesses. The essence of the project is to match those who need help with those who are ready to offer this help. Over the entire time of this initiative, more than a thousand Ukrainian specialists have contacted us. 260 companies supported us from all over the world: someone offered financial support, someone wanted to help with work and, if possible, relocation, and someone was ready to become a client for Ukrainian outsourcing companies. You can read more about the results in the Boost InGame Job media.
We also held a charity event for representatives of the gaming industry in Cyprus – "Make games, not war". Thanks to this event, we collected more than 17 thousand euros, which we divided between a Cypriot volunteer organization that helps Ukrainian refugees, several proven foundations, and volunteers in Ukraine whom we know personally – they are our friends and colleagues. For example, Evgeny Korobka, CEO of Qumaron, organized a shelter for migrants in Ukraine, and he supplies the Ukrainian army with necessary things, drones, thermal images, and many others. You can also help Evgeny. He is very active in covering his activities on Facebook.
As a Ukrainian company, we ourselves have received a lot of support from colleagues in the global industry. For example, from European conferences – Devcom, Gamescom, GIС, Digital Dragons, and so on.
Our wishes to our industry colleagues in the new year
Never give up and believe in yourself and the values that you spread to the world and the industry. Difficult times will end for sure. We at Values Value wish you peace, success and happiness. 
Read the Values Value summaries of the previous years: